2016 Power Trip Reflection: "A trip that will change our lives"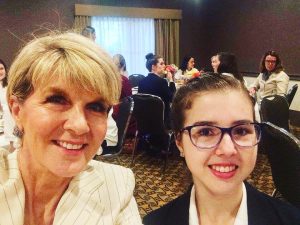 Jasmine Elliott, 2016 Power Trip winner from Gladstone, QLD
Sponsored by Maurice Blackburn Lawyers
---
On the bus to the airport after a packed few days in Canberra, a few of us remarked about how many times we had used the word 'amazing' during the Power Trip. We had been given so many opportunities throughout the 'Power Day' to network and describe our experience, and 'amazing' was on everyone's lips. I've come to the conclusion that this wasn't a reflection of limited vocabulary- but of the quality of the program. A trip that will change our lives.
This trip was amazing; whatever I write now will surely fall short of the undeniable impact that this program had on our lives. Partially because I, myself still haven't digested exactly what I am taking away from the trip… but I am sure I will notice its influence well into the future.  I was truly shocked about how many worthwhile experiences we immersed ourselves in within only two full days- so I'll split it up.
Day One
Despite my initial apprehension, yoga at ANU Sport was an invigorating experience that inspired me to… maybe do a bit more exercise. We developed our leadership skills and worked on breaking down the barriers of stereotype with women from Australian Defence. Tearing apart newspapers, learning about the presenters' stories and presenting our values provided us a mixed discussion through which we were able to discover so much about ourselves and those around us.
Next up was public speaking training with Ingrid from TEDxCanberra. We talked about the importance of distinguishing between ourselves and our ideas, along with practical instances of public speaking- introducing others, accepting compliments along with the optimal structure of a speech. Thanks to Raising Hope Foundation, all of the winners were able meet our allocated mentors who will mentor us for the next 6 months, providing much needed advice. Then… The Australian War Memorial, a truly breathtaking place which beautifully commemorates the harsh sacrifices made by our servicemen. I thoroughly enjoyed learning even more about Australia's past during our tour.
Day Two
This day was titled the 'Power Day' and rightfully so. It all started at the Powerful Women's Breakfast at which we were all extremely excited to meet female leaders – including Foreign Affairs Minister Julie Bishop! I learnt so much from the stories of all the women I talked to; from a plethora of backgrounds and in all walks of life. From here we travelled to 666 ABC Canberra where I was interviewed by the brilliant Genevieve Jacobs, and discussed the importance of my community, along with my submission into the leadership competition.
Australian Parliament House: a building where so many decisions are made, debates are had and politicians discuss ideas and plans for the country's future. We spent our afternoon here, touring Parliament House before attending a lunch with many politicians, including my local member and Queensland Senators including Chris Ketter and Pauline Hanson. I brushed shoulders with inspirational leaders from across Australia and was enthralled in Question Time. We had insightful discussions during our meetings with Fiona Nash and Tanya Plibersek about politics and work-life balance.
And just when I thought we couldn't possibly pack more into one day there was the VIP Mocktail Event and movie screening of the Queen of Katwe. There couldn't have been a better way to finish off my time in Canberra.
…..
So thank you Hannah Wandel, Country to Canberra volunteers and everyone who contributed to making this trip one that I will never forget. I was able to make some extraordinary friends, learning about myself and others simultaneously. And to you, reading this, if you're in high school next year, I urge you to enter the leadership competition. Honestly, there's nothing to lose and so so much to gain.