Learn a little more about our blogger Ellie!
Name: Ellie Simpson
Age and grade: 16-years-old and in grade 11 (college).
Where do you live? Burnie, Tasmania 
How would you describe yourself?
Fashion addict, bookworm and outrageously sociable – three definitions that without a doubt describe me. I continuously have an outgoing personality and love having a laugh. My sense of humour is quite distinctive and it shows in my writing. I adore playing with make-up and strutting my stuff in stilettos, as well as spending a full day and night on the couch reading a book. People that are familiar with me would say that I am loud. They contemplate whether that is good or bad, but I think it's a good trait to have because I'm not afraid to be heard.
Who is your role model?
Sarah Jessica Parker is my role model. Being a fashion blogger, I am totally obsessed with her as Carrie Bradshaw in Sex and the City. Carrie is a journalist and fashion addict – I could think of nothing better. Her opinions on the world around her in her columns as Carrie are always exquisite.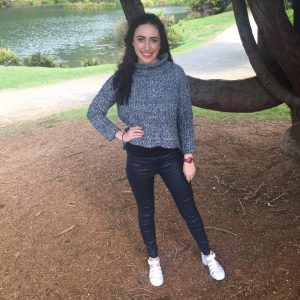 What's your favourite thing about living in rural Australia?
The community is always really involved and care about one another. Nobody hesitates in pitching in for fundraisers, community events, etc. and small towns and communities are just like big families. You can always count on and trust people around you.
What do you do to relax/have fun?
To relax, I love sitting outside with a good book in the sun (or inside if it's raining, which it usually does in Tasmania). To have fun, I do the exact same thing. If I'm feeling inspired, I flip my laptop open and write until I've ran out of words.
What's your favourite TV Show?
Friends and The Big Bang Theory.
What's your favourite quote?
"Sometimes it is the people no-one imagines anything of who do the things nobody can imagine" – The Imitation Game 
What's your main goal/ambition right now?
Right now, my main goal is to get through my first year of college with flying colours whilst maintaining my blog on a regular basis. I'm also hoping to produce some of my best content for Country to Canberra.
How can we follow you on social media?
You can find me on:
Twitter: @esimo_
Instagram: e.simo
Facebook: facebook.com/CheetaCakeBlog
Blog: www.elliesimpsonblog.wordpress.com