Bio: Eve Currie, NSW Winner 2017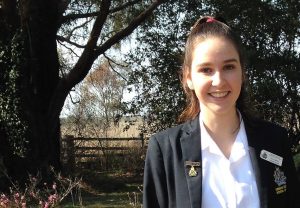 Eve is one of our 2017 Leadership Competition winners. You can check out her winning entry here and her bio below.
Describe yourself in 80 words or less.
I am a passionate and driven person who always strives to do my utmost best in every part of my life. I've always been an avid performer, enjoying debating, public speaking and musical theatre within my local community, and take these opportunities to not only enjoy myself but convey messages of social change and gender equality to audiences and to ask them to effect social change in whatever way possible.
How old are you, what grade are you in and what community/town do you live in?
I am 18 and have just graduated from Denison College of Secondary Education Bathurst High Campus. I have lived in Bathurst, NSW, my whole life.
Who is your role model and why?
I have been raised surrounded by strong, powerful women; my Mother, Grandmothers, Aunties, Great Aunties and teachers, who have time and time again proven to me that gender does not, and cannot limit my future possibilities, aspirations or dreams. These women are my most valued role models as they have inspired me to set goals and supported my achievement of these. I love them all dearly.
What's your favourite thing about living in rural Australia?
The greatest thing about living in rural Australia is the relaxed pace at which we live. From weekend sport to trips to the shops, there is always time to stop and have a chat with someone you know, and you will always run into someone up for a chat. This innate value for other people is something I believe cannot be found in many places in the world and it is something very special. 
Why did you enter Country to Canberra's Leadership Competition?
One of my teachers sent me a link to the competition and I immediately fell in love with everything Country to Canberra valued and stood for; equality, justice and empowerment. I couldn't resist entering. 
What do you hope to get out of the Power Trip to Canberra?
I am incredibly honoured and humbled to be able to participate in this brilliant initiative. I hope to get the opportunity to listen to and learn from some of our countries most influential and empowered women.  
 What's your main goal/ambition right now?
My current goal is to enjoy life after high school, work and spend time with my family and friends before I go away to university. This down time will be a brilliant way to celebrate 13 years of schooling before I start on another educational path. It will allow me to do some things around the Bathurst community and give back to the people who have supported me for all these years.
What's your favourite quote?
"I will not be lectured about sexism and misogyny by this man." – Julia Gillard 
Tell us a couple of things you do to relax/have fun?
My two favourite things in life are tea and books. Lying in the sun with a good book, or a trashy book, and a cup of tea is my favourite way to relax.