Bio: Georgia Stonehouse, TAS Winner 2017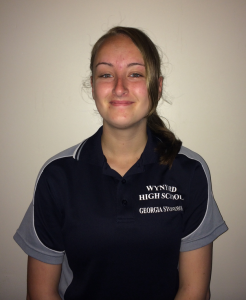 Georgia is one of our 2017 Leadership Competition winners. You can check out her winning entry here and her bio below.
Describe yourself in 80 words or less.
My name is Georgia Stonehouse and I live in Tasmania, I am aboriginal and my family is originally from Flinders Island which is a small island just off Tasmania. I love spending time with people who make me happy such as my friends and family. I would describe myself as a very hard working and determined person and I strive to work to the best of my ability. I am constantly trying to find ways to improve myself and to grow as a person.
How old are you, what grade are you in and what community/town do you live in?
I am 16 years old, I am in grade 10 and I live in a small town of close to 5000 people called Wynyard, on the North West Coast of Tasmania.
Who is your role model and why?
I don't have a specific role model, however, I see people everyday fighting for what they believe in, who choose not to live their lives in the shadow of others and these people really inspire me, they help me to believe that I can be anyone I want to and that I can do anything I set my mind to. These types of people are my role models, people who overcome problems they face everyday and still take control of their lives and embrace who they are.
What's your favourite thing about living in rural Australia?
My favourite thing about living in rural Australia is the wide range of opportunities that I am exposed to, these opportunities that I am given help me to grow as a person and to shape my future how I choose.  
Why did you enter Country to Canberra's Leadership Competition?
I entered the Country to Canberra leadership competition because I saw a girl from my school get into it last year and I was intrigued to see the things she got to do and it looked like something I wanted to be apart of. I saw the opportunity and it is something that I wanted to experience for myself. 
What do you hope to get out of the Power Trip to Canberra?
I hope to get everything I can out of this trip, whether that be gaining new knowledge, leadership skills, public speaking skills and getting to meet new people. I am prepared to get out of my comfort zone, meet inspiring women from our country and get as much as I can from this amazing opportunity.  
What's your main goal/ambition right now?
My main goal at the moment is to finish my schooling to the best of my ability. I believe that if I do well in school then I can choose the future I want. I am unsure of what I actually want to be just yet but if I do well in the last 2 years of my schooling then I can pave the way for myself to do and be anything I choose.  
What's your favourite quote?
My favourite quote is "If not us, then who? If not now, then when?" – John E.Lewis. 
Tell us a couple of things you do to relax/have fun?
Although free time is scarce for me when I have so many extra curricular activities, sports and school work, however when I do get time to relax I like to spend time playing music. I play the drums and it is a perfect way for me to express myself and I thoroughly enjoy playing music with other people. Another thing I love to do is play soccer, soccer is something I have just recently involved myself in but I love it so much!  
How do people stay in touch with you? 
@stonehouse_georgia