Bio: Isabella Thomas, VIC Winner 2017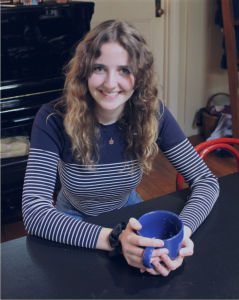 Isabella is one of our 2017 Leadership Competition winners. You can check out her winning entry here and her bio below.
Describe yourself in 80 words or less.
I'm Isabella-call-me-Bella, a very energetic and enthusiastic girl with a load of passion for a load of things, including (among others): human rights, sustainability and the environment, equality, music, film and photography, having a good giggle, travel, rollerskating, adventures and new experiences, Suits, and Buffy The Vampire Slayer. I love being busy and involved and am your go-to girl to Get-It-Done, and would love to be a lawyer one day to try to help people who have been beaten down by the world.
How old are you, what grade are you in and what community/town do you live in?
I'm 18 years old and have just finished year 12 in the beautiful and diverse Daylesford, Victoria.
Who is your role model and why?
I don't have one single role model, but a multitude of people have inspired me greatly because they have lived their lives with passion, believe in human rights and equality, and stand for what they believe in with strength and grace – like Beyonce, JK Rowling, Missy Higgans, Connie Johnson, Meghan Markle, Morgan Koegel, Malala Yousafzai, Michelle Obama, and my mum and dad.
What's your favourite thing about living in rural Australia?
The strong sense of community! I've got a whole small-town's worth of people looking out for me, helping me, and supporting me and I'm so appreciative.
Why did you enter Country to Canberra's Leadership Competition?
I loved the topic that was set for the competition and felt like I might have something to say on it. Plus the prize sounded incredible!
What do you hope to get out of the Power Trip to Canberra?
I'm hoping to meet new people, learn new things, have new experiences and come out of it more ready to take on the world.
What's your main goal/ambition right now?
Uni is the next step for me – I'm crossing all my fingers and toes that I'll get into a double degree of law and global studies!
What's your favourite quote?
"When I dare to be powerful, to use my strength in service of my vision, then it becomes less and less important whether I am afraid" – Audre Lorde
Tell us a couple of things you do to relax/have fun?
Music is a big part of my life – I play piano and ukulele and sing constantly, and I'm always happiest while dancing, be that at parties or gigs, or blasting music and rocking out around my house. I love rollerskating, spending time with my friends at our beautiful lake, geeking out over musicals, and I have a passion for documenting precious moments in life – in films, photography, scrapbooking, songs and writing.
How do people stay in touch with you?
Twitter: @itsabellarose, Instagram: @bellabellabella_
Isabella's Power Trip is kindly being sponsored by AgriFutures Australia!