Bio: Kaitlin Bell, QLD Winner 2016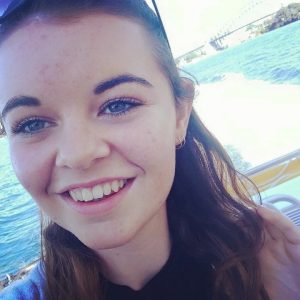 Kaitlin is one of our 2016 Leadership Competition Winners. You can check out her winning entry here and her bio below.
Describe yourself in 100 words or less!
My name is Kaitlin Bell. I am a dancer and an actor who loves all things creative. I am often described as an outgoing person, who will change the world with my burning passion and constant positivity. I aspire everyday to break though my comfort zone and create change in the world. I do this through the number of charities and organisations I am apart of, through the YMCA Queensland Youth Parliament and through my leadership roles of dance captain and school captain.
How old are you, what grade are you in and what community/town do you live in?
I am 17 years old. I am currently completing my final year of school in grade 12.
I live in Beaudesert, a small town about an hour outside of Brisbane and the Gold Coast, QLD.
Who is your role model and why? 
I don't really have a 'role model' as such. I take inspiration from people who create change in society and those who do inspirational things. I also strive to be an inspiration to others, through the work that I do and my personal story.
What's your favourite thing about living in rural Australia?  
My favourite thing about living in rural Australia is the atmosphere. I live in fairly small town where everyone knows each other and you can't walk down the street without stopping for a chat. The Beaudesert community is friendly and always willing to support each other in times of need. And of course you can't look past the beautiful nature and wildlife that Beaudesert is surrounded by. Beaudesert is also lucky enough to be located just outside of both Brisbane and the Gold Coast, which means that trips to the city and coast make great days out.
What are you passionate about? 
I am a strong activist for the arts and equality, especially for youths with disabilities. Being an aspiring dancer with a disability I know how hard life can get for some people and I want to be able create change in society.
I have also experienced first hand the powerful ideas and beliefs that the youth of Queensland have to offer and I am passionate about bringing that voice into the public's view. The youth of Australia have some amazing things to offer the world, if people would stop and take notice.
What's your favourite quote?
If your actions inspire others to dream more, learn more, do more and become more, you are a leader. ~ John Quincy Adams. 
Why did you enter Country to Canberra's Leadership Competition?  
For the past two years I have been apart of the YMCA Queensland Youth Parliament. Through this program I have unlocked a passion for creating change and inspiring others. After a number of recommendations from teachers at school, I realised that Country to Canberra would be an amazing opportunity to continue to make my mark on the world and to do something I am extremely passionate about. 
What do you hope to get out of the Power Trip to Canberra? 
The Country to Canberra Power Trip is such an amazing opportunity to liaise with so many inspirational leaders. The women that I will be able to meet and connect with throughout this experience will forever change my life. I hope to hear and share many stories throughout the Power Trip and to inspire a change for women in Australia. 
What's your main goal/ambition right now?  
My goal right now, leaving high school is to get into my university of choice.
My main goal is spark a change in society. Be it my local community, Queensland, or Australia, I want to be able to inspire people to make a change, to better the world. 
Tell us a couple of things you to relax/have fun?  
I enjoy dancing. It s one of my biggest passions. I also enjoy running, I believe they are both great forms of exercise that always seen to help me forget the world and relax and have fun. I also enjoy hanging out with my friends and going to the beach. 
How do people stay in touch with you? 
Follow me on Insta, Twitter and WordPress @kaitlinbell99 to keep up to date on all my adventures!