Bio: Lara Stimpson, NT Winner 2017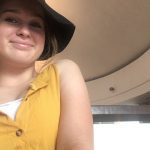 Lara is one of our 2017 Leadership Competition winners. You can check out her winning entry here and her bio below.
Describe yourself in 80 words or less.
My name is Lara Stimpson, and I am an incredibly loud, bubbly & extroverted person. I love my family, friends, and I love to learn. I adore quality time spent with the people I love and leading groups of girls in my community. I work as a lifeguard at my local town pool, I love being with kids and my dream job is to be a teacher. I am joyful by default, and want to share my joy with the world.
How old are you, what grade are you in and what community/town do you live in?
I am 15 years old and am in Year 11. Yes, I am incredibly young for my year level (I started school just after my 4th birthday). I live in the remote community of Nhulunbuy, East Arnhem Land in the Northern Territory.
Who is your role model and why?
I have lots of role models, and draw inspiration from many people in my life. I look up to my mum, and her extreme courage and selflessness towards others. I look up to my dad, and his huge heart for helping kids in our community. But, I find that by looking up too many inspirational people in my life, I have learnt so much and gained so much knowledge about the world and what place I can take in it.
What's your favourite thing about living in rural Australia?
My absolute favourite thing about living rurally is the connections I get to make with other people in my community. I love making connections with people in my school and people in my community, and because of the incredibly small population of my town I can keep those connections and build friendships.
Why did you enter Country to Canberra's Leadership Competition?
I entered the C2C Leadership Competition because I wanted to take the female voice of my community down to the big leaders in Canberra, and spread the word about the women of my home. I also want to create pathways and make connections with people in Canberra, and take what I learn back home to share with the women in my community.
What do you hope to get out of the Power Trip to Canberra?
I hope to really broaden my knowledge of both female politics and female leadership, but mostly to make lasting connections and friendships with young women all over Australia who are passionate about the same things that I am!
What's your main goal/ambition right now?
My main goal is to go to university and become a teacher, and to work towards a doctorate in education. But, I guess I have to finish year twelve first, so doing the best I can in that first would be my most prominent ambition.
What's your favourite quote?
My favourite quote is actually from the book of Joshua in the Bible, which is "Have I not commanded you? Be strong and courageous. Do not be afraid; do not be discouraged, for the Lord your God will be with you wherever you go." I find that one really encouraging.
Tell us a couple of things you do to relax/have fun?
Where I live, I have the most gorgeous beaches, so I find if I want to relax I will go with my best friend and enjoy the calm atmosphere of the beach. For fun, I could literally do anything! I am incredibly excitable, and get joy out of a lot of things.
How do people stay in touch with you?
My Instagram is @larastimpson !