Bio: Louise Hobbs, VIC Winner 2016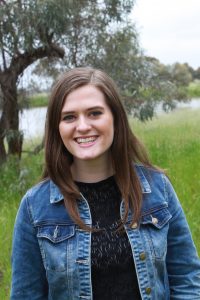 Louise is one of our 2016 Leadership Competition Winners. You can check out her winning entry here and her bio below.
Describe yourself in 100 words or less!
I have grown up living on a farm, 20kms from Kaniva. I love traveling, meeting new people and public speaking. I have a part time job at our local roadhouse which keeps me pretty busy. I am passionate about science and have been involved in national and international science programs such as: Space Camp, APRSAF Water Bottle Rocket Competition, FIRST Robotics Competition, and International Student Science Fair. In my spare time I enjoy writing, photography and film making.
How old are you, what grade are you in and what community/town do you live in? 
I'm 17 years old and am currently in year 11. I live in Kaniva, a remote and rural community, situated near the Victorian and South Australian border. Kaniva is 5½ hours from Melbourne with a population of just over 1000.
Who is your role model and why? 
I have always looked up to Kate Maddern who is 3 years older than me and attended my school. Kate was my Patrol Leader when I first started Girl Guides. Kate has an incredible work ethic and a love of science, she took advantage of every opportunity that came her way. Kate believed that "the harder you work, the luckier you get". She was always there to offer advice and is currently pursuing a science degree. She showed me how important it was to be true to yourself and the power of determination.
What's your favourite thing about living in rural Australia? 
Growing up in a rural area you learn from a young age that and if you want something done you need to roll up your sleeves and make it happen. Self-sufficiency is a normal way of life for us: We grow our own food, produce our own power, and drink untreated rainwater. Volunteering is a natural part of living in a rural community and everyone lends a hand regardless of their age. I love the fresh air and diversity of activities that country life has to offer such as, shooting, rock climbing, and kayaking.
What are you passionate about? 
I'm passionate about encouraging girls into science subjects, I've seen many smart girls not choose STEM subjects because they underestimate their abilities. I want to change this and evoke a passion and a 'can do attitude' in STEM subjects for all. It's about empowering girls so they can reach their full potential. With a lack of full time jobs for girls it's important that they choose STEM in order to maximise their earning potential and vocational opportunities.
What's your favourite quote?
"One child, one teacher, one book, one pen can change the world." Malala Yousafzai 
Why did you enter Country to Canberra's Leadership Competition? 
Unfortunately, I see daily examples of gender inequality being dismissed as normal behaviour, banter, or 'just a bit of fun'. I saw this competition as an opportunity to be a voice for rural girls, by talking with policy makers and influential women about issues in rural communities. 
What do you hope to get out of the Power Trip to Canberra? 
The Power Trip will be an amazing chance to understand gender equality and talk with key people. From this experience I hope to be exposed to new perspectives and ideas along with furthering my public speaking skills. I'm also super excited to meet other young women from rural communities who are passionate about gender equality. 
What's your main goal/ambition right now? 
My main goal is to do well on my Year 12 exams. I am also saving for a car and a Rustic Pathways trip to Thailand. After that I am hoping to undertake either a Bachelor of Biomedicine or Science at Melbourne University.
Tell us a couple of things you to relax/have fun? 
Relax? Fun? What's that? Just kidding! When I'm not at work or school, I enjoy photography and film making. I enjoy spending time with my friends and family along with traveling to new places.
How do people stay in touch with you? 
@louisehobbs_ instagram
@louthehobbit twitter