Bio: Merin Ward, QLD Winner 2017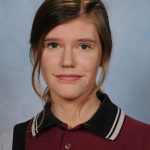 Merin is one of our 2017 Leadership Competition winners. You can check out her winning entry here and her bio below.
Describe yourself in 80 words or less.
I really enjoy school – my favourite subjects are English and chemistry. For 7 years I've played soccer and like to exercise as much as I can. I've travelled to Japan twice and would like to do an exchange when I'm in Uni. I'm passionate about mental health and the way it affects people's relationships and lifestyle, and hope to possibly pursue a career in this area.
How old are you, what grade are you in and what community/town do you live in?
I am currently 16 years old and in grade 11. I have lived in Gladstone for my whole life.
Who is your role model and why? 
My role model is Libby Trickett because she has worked extremely hard for her athletic achievements, and is also a mental health ambassador. I find her story really inspiring because of the ups and downs she has had after retiring as a professional swimmer. I went and saw her speak at our local Uni, and the points she made about identity and belonging really interested me, and I have learnt a lot from her perspectives.
What's your favourite thing about living in rural Australia?  
In rural Australia, we don't have giant skyscrapers and millions of houses. At night, it is easy for me to go outside and look at the stars. In larger cities, it is harder to see the stars due to the amount of light in the city. I enjoy being able to go outside, and point out Venus and Mars with my dad.
Why did you enter Country to Canberra's Leadership Competition?  
I entered the competition because I thought it would be a great opportunity to learn new things and meet new people, as well as develop skills that could help me when I finish school.
What do you hope to get out of the Power Trip to Canberra?
From the Power Trip to Canberra I hope to learn many new things about politics and Australian issues that I might not know about. I think it would be great if I could improve my public speaking skills and make lots of new friends.
What's your main goal/ambition right now? 
My goal right now is to participate in as many extra curriculum activities as I can and continue broadening my view of the world. For me, I learn through experience and want to use any opportunity that arises to educate myself further. My ambition is to finish school and go to University and study a dual degree.
What's your favourite quote?  
"What makes us is how we rise to each challenge" – Libby Trickett
Tell us a couple of things you do to relax/have fun?  
For fun, I will always go out with my friends or play sport. If I'm feeling stressed I will listen to music, talk to my best friend or plot out what I need to do and when I need to do it.
How do people stay in touch with you?
My Instagram is mmerinn­_