Learn a little more about our blogger Michelle!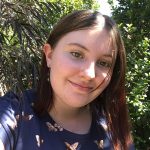 1. Describe yourself in 100 words (your overarching bio). 
Hi I'm Michelle Monaghan and I'm a big chatterbox (according to everyone)! I love reading so much that my bookshelves are overflowing. My passion is writing and I'm currently trying to write my own novel that I hope to publish one day. I absolutely love my family and friends they mean the world to me, especially my Mum. I hope one day to have a career in the world of writing and publishing perhaps an editor, I don't know yet. I can be a very emotional person at times and I do take things to heart, but that's just me.
2. How old are you/what grade are you in?
I'm 17 years old and in grade 12.
3. What community/town do you live in?
Victor Harbor, South Australia.
4. Who is your role model? 
My Mum is my role model. Since she and my Dad separated when I was 9-10 years old, I chose to live with her and she has been so amazing and supportive as I've grown up. I look up to her in all things and she always has the right answer for me and I know I can always look to her for guidance. Mum will always tell me to do the best I can and has always said: "Do something that makes you happy."
5. What's your favourite thing about living in rural Australia?
Victor Harbor is a very charming and special place to live, especially in the whale watching season. Everyone is always kind to everybody else and it has stunning views of the ocean.
6. What do you do to relax/have fun? 
I love reading and writing it's my favorite thing to do. Other than that, I enjoy watching movies at the local cinema and at home. Going out with for a coffee with Mum and spending time with friends and family.
7. What's your favourite TV Show?
Game of Thrones! I'm absolutely OBSESSED with the show and I can't wait for season 7 to air this year!
8. What's your favourite quote? 
"If life gives you lemons, make lemonade."
9. What's your main goal/ambition right now? 
To finish grade 12 with an excellent ATAR, so I can get into a Bachelor of Communication and Professional Writing at my chosen University.
10. Add in your Twitter Handle or any links for us to follow you on.