Learn a little more about our blogger Mikah!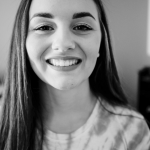 Describe yourself in 100 words.
My name is Mikah Appel and I'm from a small town in Queensland called Biloela. I love to play sport, from swimming and netball, to rugby union, touch football and AFL. Being coached in rugby by a couple of the Olympic Australian Women's Rugby 7's girls made me think about the opportunities (or lack thereof)  available for women in sport, especially in rural areas. Since then, my goal has been to speak out about women in sport and show that we are just as capable and worthy of sporting opportunities as men.
How old are you/what grade are you in?
I'm 17 this year and in grade 12.
What community/town do you live in?
I live in a small town in Central Queensland called Biloela.
Who is your role model?
Gabi Simpson- Australian Diamonds netball player and QLD Firebirds captain. WD, Gabi Simpson's position, is often deemed useless, boring, and 'the position your coach puts you in when you're not very good'. However, she challenges this stereotype, as she is often the game-changer. Her determination and never-give-up attitude inspire me to always try my hardest and ignore stereotypes, not only as a WD in netball, but in everyday life too.
What's your favourite thing about living in rural Australia?
My favourite thing about living in rural Australia is the overwhelming support the whole community offers in times of need. My town wouldn't have been able to endure our struggles over the years if it wasn't for such a supportive and selfless community.
What do you do to relax/have fun?
Outside of doing sport, I love makeup! Makeup is like art, and I enjoy creating different looks and experimenting with colours. Just as you can express yourself through the clothes you wear, your hairstyle, painting, or cooking, you can do the same with makeup.
What's your favourite TV Show?
I don't get much time to watch TV, but when I do, I like to watch other people watch TV- Gogglebox.
What's your favourite quote?
"There's no reason to look back when you have so much to look forward to"
What's your main goal/ambition right now?
My main goal and ambition right now is to work hard in grade 12 so I can hopefully study Nutrition and Dietetics at University.
Add in your Twitter Handle or any links for us to include.
Instagram- @mikahappel