Bio: Philadelphia Coleman, NSW 2016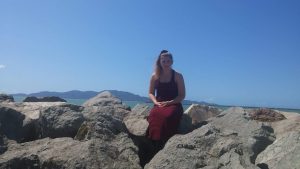 Philadelphia is one of our 2016 Leadership Competition Winners. You can check out her winning entry here and her bio below.
Describe yourself in 100 words or less!
My name is Philadelphia Coleman, I come from a big family and I have 5 Sisters and 1 Brother. I ride dirt motorbikes, I like challenges, I love learning new things, I am involved in many community organisations such as Salt Ash Rural Fire Service, Surf Life Saving Australia, Port Stephens Youth Advisory Panel, Toastmasters and I am also a Facilitator for RYPEN (Rotary Youth Program of ENrichment. I also enjoy public speaking and participating in leadership activities.
How old are you, what grade are you in and what community/town do you live in? 
I just turned 18 years old, I am in year 11 and I am live in Salt Ash in New South Wales. However, I am originally from Townsville in Far North Queensland.
Who is your role model and why? 
My biggest role model is Oprah Winfrey because she had overcome child abuse just like me. I leant that I was responsible for my life and if anything was going to change I would have to do something different. After many years it became clear to me that the only person in this world, who has your back, is you and you can overcome anything if you put your mind to it.
What's your favourite thing about living in rural Australia? 
I love living in rural Australia because there are so many hidden wonders that you just would not find in the city, like beautiful creeks, which I enjoy swimming at regularly. From living in rural Australia I have developed a deep appreciation for this beautiful land.
What are you passionate about? 
I am passionate about become a Female Pilot in the Royal Australian Air Force and more recently I have had aspirations to become Prime Minister for Australia. I am also passionate about creating change such as equality and making Australians more aware about child abuse.
What's your favourite quote?
"Positivity is the key"
Why did you enter Country to Canberra's Leadership Competition? 
I entered the Country to Canberra's Leadership Competition because I love anything to do with Leadership and Public speaking, but also to set an example for other Women to show them that whatever they may be experiencing now is only temporary, better things will take place of negative experience if they take opportunities and extend their comfort zone.
What do you hope to get out of the Power Trip to Canberra? 
I understand that public speaking is not something that you can just do a course and all of a sudden you're a good speaker for life. Public speaking is something you need to exercise regularly in order to be good at it. I hope to exercise my public speaking further and I look forward to being involved with TEDx. I hope to also gain useful information from Defence Personal, as well as meeting successful women leader and make friends with like-minded young women who have also won this "trip of a lifetime".
What's your main goal/ambition right now? 
My main goal right at this point in time is to study hard, give school my best attempt to achieve an ATAR of above 85, as well as applying myself to be School Captain.
Tell us a couple of things you to relax/have fun? 
To relax or just have some fun I find myself painting, listening to music, riding my motorbike, mowing the lawn or going for a walk in the bush or along the beach.
How do people stay in touch with you? 
Instagram: philadelphia_98
Facebook: Philadelphia Coleman
Snapchat: philadelphia04