Bio: Rachelle Dowling, VIC Winner, 2017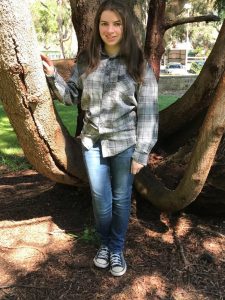 Rachelle is one of our 2017 Leadership Competition winners. You can check out her winning entry here and her bio below.
Describe yourself in 80 words or less.
An individual who always tries their hardest at life and at achieving my goals. I grew up in a situation that was out of my control, that didn't leave much room for ambitions or dreams. I come from a broken family that didn't always support me. I learned to support myself which made me into the person I am today. I found my own dreams and bettered myself for my future.
I would describe myself as strong and resilient.
How old are you, what grade are you in and what community/town do you live in?
I am 18 years old studying year 12 at Education College Gippsland Warragul. I currently live in Yarragon a small country town 15 minutes outside of Warragul. My schooling and community town is mainly based in Warragul.
Who is your role model and why?
The teachers from Education College Gippsland especially Tina Moonen who has guided me to a life style of my choosing.
My inspiration to keep chasing my dreams comes from my idol Michael Jackson. His music he has inspired me in the darkest times, these people have helped me create resilience in my life.
My mum is my main role model, the Baw Baw Food Movement and the Lions club ladies.
What's your favourite thing about living in rural Australia? 
It's quite; it's got a lot of diverse people from different backgrounds, everyone really knows everyone in a small town so you tend to form more of a community environment easier.
Why did you enter Country to Canberra's Leadership Competition?
I entered Country to Canberra because I wanted to prove to myself that I am capable of achieving more in life. I wanted to express my opinion that is rarely herd or listened to and I wanted to do it in a way where I wouldn't be discriminated against for not having a high degree or a proper education. I wanted to be herd; I want to somehow make a small change in the world to progress the future greatly. That's my goals in life.
What do you hope to get out of the Power Trip to Canberra?   
I hope to gain motivation out of this Power Trip, I want to see what everyone's goals are for the future, I want to be able to here opinions from my generation from across Australia, and I'm interested in hearing what could be in line for the future.
What's your main goal/ambition right now? 
My main goal now is to continue my passion of helping throughout my community, my future goals is to become a youth worker so specialise in helping out the youth with in areas of homelessness.
What's your favourite quote?
My favourite quote would have to be: "Turn your wounds into wisdom" 
Tell us a couple of things you do to relax/have fun?
I like to box and play piano, I love to listen to music mainly Michael Jackson, and I love to help out people and my friends as much I can. I find joy in seeing others joy. I love to watch movies and organise things.
How do people stay in touch with you?
Facebook; Rachelle Dowling Or email: shelly_puppy7@hotmail.com