Describe yourself in 100 words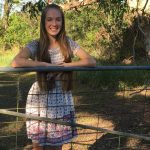 My name is Rebecca Pickering and I live in a town called Woodford in QLD's South-East. I am 16 years old and currently in grade 12, and hope to study agribusiness next year at university. I have spent my whole life on a farm and have a strong passion for agriculture and love living in rural Australia. I have an older sister who is my best friend and my inspiration, and couldn't imagine life without her. I have a passion for horse riding and reading, but above all I love being an active community member and getting my voice heard amongst others.
1. How old are you/what grade are you in?
I am currently 16 and in grade 12.
2.What community/town do you live in?
I live in a small town in Queensland's South-East called Woodford.
3. Who is your role model?
Emma Watson. She is such an inspiration in relation to all of the humanitarian work she has done, and I couldn't think of a better person to be named the UN Women's Goodwill Ambassador.
4. What's your favourite thing about living in rural Australia?
I love everything about living in rural Australia! I am lucky enough to live in a beautiful town that has the most incredible sense of community, and when problems arise no one hesitates to lend a helping hand. The wildlife that surrounds me makes me have such a high appreciation for where I live, and having so much space around me gives me such a wonderful sense of freedom. Apart from the wonderful communities and wildlife rural Australia has to offer, the sceneries are absolutely awe-inspiring, and every day I am reminded just how truly lucky I am to live in such a beautiful part of the world.
5. What do you do to relax/have fun?
I am a self-confessed bookworm! I absolutely love reading, although with that being said I love doing everything and anything outdoors, especially horse riding.
6. What's your favourite TV Show?
McLeods Daughters! I fell in love with it when it was showing on TV and have re watched the series since!
7. What's your favourite quote?
"You are never too young, or too old, too poor, too uneducated or too busy to start living your dream." –Nicole Warne
8. What's your main goal/ambition right now?
My main goal right now is to complete grade 12 with the best possible OP score and get into university studying a bachelor of agribusiness.
9. Connect
–Instagram @rebecca1805