Bio: Rose Denovan, NSW Winner 2017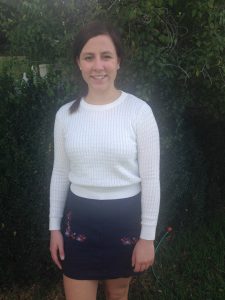 Rose is one of our 2017 Leadership Competition winners. You can check out her winning entry here and her bio below.
Describe yourself in 80 words or less.
My name is Rose Denovan and I'm from NSW. I recently started Year 12 and am really enjoying studying History and English particularly. I'm quite studious and after school, I hope to study law. I'm passionate about gender equality because despite being taught that we live in a post feminist world; cultural, social and economic inequality between the genders is still prevalent.
How old are you, what grade are you in and what community/town do you live in?
I am seventeen years old and recently started Year 12. I live in Bathurst, New South Wales.
Who is your role model and why? 
Since her speech at the UN, Emma Watson has been my role model. I look up to her because she believes girls should never have to shy away from being intelligent and studious, and because of  her dedication to her academic achievements and career. Most importantly, I look up to her for her role as UN Ambassador in using her voice to break down many issues that still present barriers to feminism and her dedication to achieving gender equality.
What's your favourite thing about living in rural Australia? 
My favourite thing about living in rural Australia is that I've lived in the same town since starting school, and have grown up with a strong sense of community. Although I like new opportunities, whenever I return after travelling, Bathurst immediately feels familiar and like home.
Why did you enter Country to Canberra's Leadership Competition? 
I entered Country to Canberra's Leadership Competition because feminism is something I am passionate about. I like to be challenged and was interested in the opportunity to explore perspectives on gender equality and growing up as a girl in Australia. I thought it was an amazing opportunity to encourage girls to overcome cultural barriers that make a career in politics, or any form of leadership, more difficult than for our male counterparts.
What do you hope to get out of the Power Trip to Canberra? 
I hope that the Power Trip to Canberra will help me improve on skills such as public speaking, hear different opinions and perspectives on feminism in politics, and meet girls equally passionate about gender equality.
 What's your main goal/ambition right now? 
My main goal right now is to do well in Year 12, and after that I would love to study law.
What's your favourite quote?
"Women are supposed to be very calm generally: but women feel just as men feel; they need exercise for their faculties, and a field for their efforts, as much as their brothers do" Charlotte Bronte
Tell us a couple of things you do to relax/have fun? 
I have been a big reader since I was young, so usually a book.
Rose's Power Trip is kindly being sponsored by AgriFutures Australia!