Bio: SA Winner Caitlin Heppner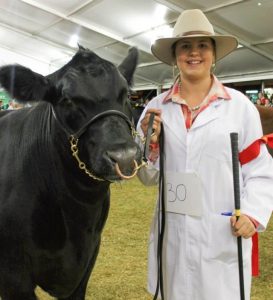 Caitlin Heppner is the South Australian winner of the 2015 Country to Canberra Essay Competition. You can read her essay here and learn a little more about her below!
---
1. Tell us a little bit about yourself!
If I were to describe myself I actually wouldn't really know what to say! I am a very strong leader with strong directions in life and I guess, I'm not your average teenage girl! I enjoy almost anything country related or ag-related. I love working in shearing sheds as a roustabout and occasionally a trainee wool-classer, and I also love mechanics! Oh and country music! I see myself as being 'country from my cowboy boots, to my down home roots', which a lot of the time my mates find quite amusing because I'm not afraid to admit that I'm country 110%! All of my life I have lived on the land and I have always wanted it to remain this way. I am extremely passionate about Australian agriculture and the future endeavours for the industry.
2. How old are you and what grade are you in?
I am 17 years old and am currently in year 11 with the intentions of undertaking a full-time traineeship in year 12 to gain my Wool Classers Certificate, which has been a dream of mine since I was 10, when I first saw the Australian Shearing and Wool handling Team in action at a fundraiser for their trip to Norway later that year.
3. Where do you live? 
Nuriootpa, South Australia.
4. Who is your role model and why?
I don't actually think I have a role model, I never really have. All of my life I have been different; I have had a set track of where I want to go and how I am going to get there. Of course throughout my life and on my way to where I am today people have influenced me but I'm still my own person and I'm not modelling myself on anyone else. To me, things have always been black and white, there is never any grey and I think that is one of the reasons I don't have a role model, because I don't have the grey area that needs defining. I have looked up to many different people, from my best mate all the way to people like Shannon Warnest, a World Champion shearer who grew up in a local family and went on to do some extraordinary things with his life. Nathan Meany is another one of these people; also a local shearer who has gone on to lead a successful life. Shannon's and Nathan's talents to me, say that anything is possible, but only if you work for it and I think that that is what has made me do things the way I have. I always put in the hard yards in order to get where I want to be, so that at the end of the day I know I've earnt it.
5. What's your favourite thing about living in rural Australia?
There is no way I would be able to narrow down to just one thing that is my favourite about living in rural Australia! Maybe it is the fact that I'm not living in the city where you can't see the stars at night. Maybe it is the wide open spaces, or maybe it is the people I get to meet; the true blue Aussie characters. I actually think my favourite thing about living in rural Australia is the idea of freedom, the feeling of not being closed in. I love waking up in the morning and not seeing a skyscraper or the neighbour's back fence. I love the wide open spaces and the somewhat laid-back style of life, depending on the time of year that is!
6. Tell us a couple of things you to relax/have fun?
A couple of the things I do to relax? Well, for one I don't think that 'relax' is in my vocabulary at times! My life is pretty full on with all of my schooling as well as extra-curricular activities, so relaxing as such is a rarity. I do find though that escaping the rush through my country music is relaxing although most of the time I will be trying to sing and dance like it's going out of fashion! One of my biggest escapes from the rush of life is showing cattle, I really do love it. I get to spend the day with some of my most amazing friends and we all have so much fun! It also gives me the chance to dress up a little, be 'a real cowgirl' as one little girl once said to me! Another escape for me is actually mechanics, I love fixing anything with a motor, as long as it cooperates that is! It is also an extremely valuable skill to have. To me, it's just little things that help me to escape the rush of life that I find the most relaxing and fun!
7. What's your favourite quote?
I think the one that stands out to me the most in life is 'When nothing goes right…..go left'. This quote has endless possibilities. To me, it opens up so many doors because during life, things won't always go right, so instead of it finishing then and there, go another way; go a different direction, go left! One other quote I really like is a few lines from a song by Joe Dee Messina, 'One man said you know I've been thinking, the other man said that won't get you too far…' This quote to me is as much funny as it is meaningful. It is really true though, that thinking won't get you too far, it is the actions that follow from those thoughts that leads you to your destination.
8. Why did you enter Country to Canberra's essay competition?
It was actually my Dad who first discovered Country to Canberra when he was listening to the radio one day at work. The first thing he did when he came home was tell me about this competition for young rural women with good leadership skills and strong beliefs and passion for rural Australia. Immediately I was intrigued. When I read more about what the competition was, I thought, this is the perfect chance for me to be able to have a say where it really matters! I have always been very opinionated and stand by my beliefs, and by entering Country to Canberra I would be able to rub shoulders with those who lead this country and discuss topics with them, in the hope that I could become a voice for rural Australia. I can see how rural Australia is being overlooked a fair bit by the powers that be in Government and having travelled and even worked in different rural areas of Australia, it is clearly visible that the people who made this country what it is today are not getting the recognition or assistance they deserve. To me, this isn't right and someone has to stand up and be a voice for them because they contribute so much to the economy and a lot of the time, their voices aren't heard where they are needed the most and this is what winning Country to Canberra could do for me and most importantly for them.
9. What do you hope to get out of the 'Power Trip' to Canberra?
The Power Trip to Canberra gives us an opportunity to go behind the scenes at Parliament House as well as meet some of the politicians. Although I would feel somewhat out of place in the city (as I usually do!), I want to be able to utilise my leadership skills in the hope to have a chance to speak out on behalf of the rural Australia and become a voice for our farmers. To me, winning this chance to go to Canberra is extremely special because most of my adolescence years I have wanted to have the chance to say something important and make a difference where it counts, and by having a chance to go to Canberra now, I feel as though this is my one chance to make a difference; the one thing I have always wanted to do. The other thing I am also really excited about is meeting the other winners and making new friends.
 10. What's your main goal or ambition right now?
My main goal at the moment is to just make it through this year! I do tend to take on quite a few different activities outside of my already hectic school-life, so my main goal is to keep up my academic record so that I can leave school at the end of this year on a high to follow and make my dream of being a Wool Classer come true! I guess my other goal is to actually enjoy life and have fun! In all seriousness, my life has been overtaken with my schooling in the last 2 years so most of the time I pass up opportunities that I simply don't have the time for, but now, as I am nearing the end of school, I've come to realise that I am only young once and I want to make the most of life! This is one of the reasons I actually entered Country to Canberra, and I am so happy that I did!