Describe yourself in 100 words.
My name is Samantha Edwards, and I live on a farm near Lucindale in the South East of SA. I go to school at Immanuel College in Adelaide, as a boarder. I enjoy many activities that keep me busy and from missing home, including playing the flute and playing basketball, netball and volleyball for the school. I also enjoy art, and am currently completing a set of paintings of the farm for my brother. When I go home, every few weekends, I use the time to catch up with my family and get out and about in the garden and playing with our pets.
How old are you/what grade are you in?
I am 16 years old, in grade 11.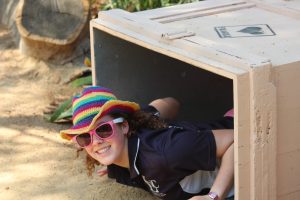 What community/town do you live in?
I live on a farm near Avenue Range, 15 minutes out of Lucindale, in the South East of SA.
Who is your role model?
My mum, my aunty and my Granma are my role models, but especially Granma. Granma is so strong, caring and kind, and just such an amazing person.
What's your favourite thing about living in rural Australia?
I love that the community is so small and everyone knows each other. I also love the freedom of living on a farm and having so much space and so many pets.
What do you do to relax/have fun?
I love reading, any type of book that takes my fancy at the time. I also enjoy various types of sport; netball, basketball and volleyball, or running and attending gym classes. Spending time with friends, family and my pets is really important to me as well.
What's your favourite TV Show?
I'm really into mystery/crime series. At the moment my favourite is probably Jack Irish – I love the complicated plot and the mystery that continues through each show.
What's your favourite quote?
"The only words you'll regret more than the ones left unsaid are the ones you use to intentionally hurt someone" – Taylor Swift.
What's your main goal/ambition right now?
My main goal is probably to keep my grades up but make sure I'm still enjoying life and not getting too stressed out or bogged down with work.
Add in your Twitter Handle or any links for us to include.