Bio: Shanae Klaas, NT Winner 2017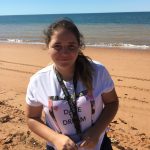 Shanae is one of our 2017 Leadership Competition winners. You can check out her winning entry here and her bio below.
Describe yourself.

My name is Shanae Klaas, I was born in Cairns and grew up in Katherine and Darwin. I love photography, playing netball, camping and hiking. I live with my mum, dad, little sister and brother. I am an introverted kind of gal but once I get to know you I can't stop talking. I think I love my friends a little too much and we get a little crazy when we're together. I couldn't live without my family as they have shaped the person that I am today.
How old are you, what grade are you in and what community/town do you live in?
I am 16 years old and currently finishing grade 11. I live in a small town called Katherine, which is located around 300 kilometres south of Darwin.
Who is your role model and why?
I don't really have a role model but I do look up to my mum and dad.
What's your favourite thing about living in rural Australia?
My favourite things about living in rural Australia is that everything is just around the corner and everyone knows each other. Nitmiluk Gorge and Kakadu are basically in my backyard so you could say that swimming is a must for me. The lifestyle up here in the NT is pretty laid back, which is something that a lot of city kids never get to experience.
Why did you enter Country to Canberra's Leadership Competition?
I entered this competition because of the "once in a lifetime opportunity" to meet and speak with some of Australia's most influential female leaders. One day I aspire to follow in the footsteps of these strong ambitious women and be a role model in my community where I can pass on these leadership skills to the next generation.
What do you hope to get out of the Power Trip to Canberra?
I hope to be able to get an insight into the journey and an understanding as to how our female leaders have achieved success in their careers. I also hope to hear other participants' perspectives on important issues happening around the world, gain leadership skills, confidence in public speaking and inspire other rural girls to take every opportunity presented to them and to follow their dreams.
What's your main goal/ambition right now?
My goal at the moment is to finish grade 12 next year with good marks and an ATAR above 85. After completing grade 12 I hope to be accepted into a university where I would like to study either; Engineering, Sociology or Medicine.
What's your favourite quote?
"Imagination is more important than knowledge. For knowledge is limited to all we now know and understand, while imagination embraces the entire world, and all there ever will be to know and understand." – Albert Einstein.
Tell us a couple of things you do to relax/have fun?
When I'm not immersed in schoolwork, in my spare time I enjoy reading, listening to music, swimming, photography, cooking and experimenting with new foods, hanging out with friends and spending time with family. I also love to binge watch my favourite tv shows late on a Saturday night on Netflix.
How do people stay in touch with you?
Instagram: @shanae_klaas