Bio: VIC Winner Kate Jenkins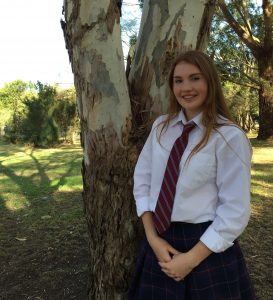 Kate Jenkins is the Victorian winner of the 2015 Country to Canberra Essay Competition. You can read her essay here and learn a little more about her below!
---
1. Tell us a little bit about yourself!
Hi, my name is Kate Jenkins and two of my main passions are travel and feminism! When I finish VCE I plan to take a gap year and travel to as many countries as I can afford; to experience different ways of life and meet new people. I love to go swimming in the pool and at the beach, listen to Triple J, and go to parties with friends. I would describe myself as a happy girl who likes to push her comfort zones and explore new ways of thinking.
2. How old are you and what grade are you in?
I am 16 years old and am currently in year 10. My main interests at school are History, English and Psychology.
3. Where do you live? 
I live in South Gippsland, Victoria.
4. Who is your role model and why?
I cannot pick just one! I look up to and admire many different women, each for different reasons.
5. What's your favourite thing about living in rural Australia?
My favourite thing about living in rural Australia is the peace and nature of the countryside, I live really close to a National Park and there are lots of lovely beaches close by. It never feels crowed here; everyone knows everyone and we all feel part of a community.
6. Tell us a couple of things you to relax/have fun?
To relax I like to go running, bike riding or swimming, I feel it really helps to refresh my mind when I'm feeling stuck in a rut. If the weather is nasty though I might opt for a "Friends" marathon! To have fun I love to hang out with my friends, and my favourite time of year is staying at the beach during summer.
7. What's your favourite quote?
I have a new favourite quote every month, but right now I like this one by Ernest Hemmingway, "Live the full life of the mind, exhilarated by new ideas, intoxicated by the Romance of the unusual."
8. Why did you enter Country to Canberra's essay competition?
I entered the Country to Canberra essay competition because the topic was something that I feel really passionate about and felt I would love the opportunity to express my ideas to others and hopefully get and meet some amazing people!
9. What do you hope to get out of the 'Power Trip' to Canberra?
I hope for the Power Trip to Canberra to broaden my horizons and inspire me to dream big. I also hope to learn new perspectives and ideas about female empowerment in Australia.
 10. What's your main goal or ambition right now?
My main goal for the next two years is to finish year 12 successfully and get accepted into an Arts Degree at my first choice of university.
11. How can we keep up with you? 
Instagram: @kate_allie
Twitter: @kate_allie