Bio: WA Winner Ellecha Thorp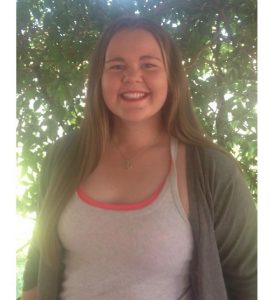 Ellecha Thorp is the Western Australian winner of the 2015 Country to Canberra Essay Competition. You can read her essay here and learn a little more about her below!
---
1. Tell us a little bit about yourself!
I would describe myself as a passionate and determined person. I'm a pretty stubborn person- once I decide I'm going to do something, I do everything in my power to follow through with it! I'm a continual goal setter, and I feel accomplished when I achieve my goals, no matter how big or small, which I think helps motivate me to keep working hard. I'm an outgoing person, and I have a passion for learning new things, and I could potentially see myself getting into politics in the future. I love being around people, and I guess that's why I have such a broad range of hobbies, interests and projects/organisations I'm involved with.
2. How old are you and what grade are you in?
I am 16, and in Year 11 at Cape Naturaliste College in Busselton.
3. Where do you live? 
Busselton, WA. It's a town about 3 hours South of Perth.
4. Who is your role model and why?
Nelson Mandela- he has always been a role model to me and I have deep and eternal respect for both him and his actions. Racial discrimination is abhorrent and incomprehendable to me. I do not think anyone could ever understand what Mandela went through. He spent approximately 150,000 hours in terrible conditions and, for the entire duration, he remained as innocent as he was when he first became imprisoned. I have never heard or seen such humility, self-belief and positive obstinacy that Mandela displayed in a person before. He came out of prison, with open arms of forgiveness and kept fighting for what was right. All he wanted was equality, and not once did he shame those who made him suffer, and I have so much admiration for everything he did.
5. What's your favourite thing about living in rural Australia?
For me there's real sense of pride when it comes to living in the country. When I return home after being up in Perth, I just really appreciate where I live. The atmosphere of the country is so relaxed compared to city life, and the sense of community really shines through. The smaller communities generate that homely feel and being in the country is so great.
6. Tell us a couple of things you to relax/have fun?
Somehow I always manage to keep myself busy, and always doing one thing or another, however, I think it's so important to make sure your life is balanced. So for me that means physical, mental, and emotional. I love running and playing netball as well as going for walks at the beach with friends and experiencing and trying new things.
7. What's your favourite quote?
Transformational leaders don't start by denying the world around them, rather they describe a future they'd like to create instead. –Seth Godin
8. Why did you enter Country to Canberra's essay competition?
I'm very passionate about gender equality and could definitely see myself in politics in the future, and when I found out the Country to Canberra essay topic combined the two I knew I had to enter. I really enjoyed writing my entry for the competition and thought it was so cool to play around with different writing formats to answer the question!
9. What do you hope to get out of the 'Power Trip' to Canberra?
I am so excited, and I feel incredibly privileged to be able to meet the winners from other states, as I know we will all share similar passionate views and I hope to learn and share experiences with them. I'm also hoping to take the opportunity to speak to some of the amazing politicians we will be fortunate enough to meet, in order to ask some questions I have in regards to myself possibly doing politics as a career! It's such an amazing opportunity and I hope to learn as much as possible whilst on the Power Trip.
 10. What's your main goal or ambition right now?
My main goal at the moment is to get through school and to involve myself in as much as possible in order to make the most of my time. The way I see school, is to open doors for the future, and the more I am able to do and get out of school, the more doors I open for myself! So that's pretty much my goal at the moment, to set myself up in a good position in order to be able to go wherever life takes me after school.
11. How can people keep up with you?
You can follow my blog! http://green-central.tumblr.com/