Caitlin's C2C Experience: "A Once in a Lifetime Opportunity"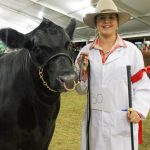 Caitlin Heppner was the South Australian winner of the 2015 Country to Canberra Essay Competition. You can read her essay here.
Country to Canberra for me, was and still is a once in a lifetime opportunity that opened my eyes and allowed me to see what is possible if I set my mind to it.
As SA's representative, I took my Power Trip to Canberra as a great chance to talk to politicians in Canberra about topics close to my heart; Australian Farmers and Agriculture. Although we were there representing our gender through the topic of gender equality, I have always believed that although it as an issue in agriculture that needs to be faced, it is not one of the highest priority.
After talking to politicians in Canberra, I took action when I returned home by contacting my local MP regarding better water prices for the people who feed our nation as well as many overseas countries which we are currently working on trying to achieve. It wasn't just the things I felt were important to carry out once I returned home that made the power trip an amazing experience. It was the wonderful group of young, strong women I met and the fun and friendships we formed. We all had such different backgrounds, different stories and different passions and it truly was an amazing experience.
One of my favourite things about the power trip was that we were given the chance to visit the Australian War Memorial. I have always wanted to go there but we really could have spent 2 whole days there reliving our nations past. Being there made me feel that we had an even stronger reason to stand up for what we feel is right on behalf of our states. Walking through the war memorial made me as much sad as it did proud of the people who fought for us. It really was something that made the power trip 10 times better than it already was even though I don't think it could have gotten any better!
I'm a very country person so going to Canberra for me was a very big change but I did learn some helpful things while I was there, one of them being if I want regular coffee….. I have to order a 'flat white'! It may sound funny but that has to be one of the best things I learnt while I was in Canberra besides how amazing the other girls were and how strong willed we all were.
I cannot praise Hannah Wandel and the Country to Canberra team, as well as all of the sponsors enough for the opportunity they gave 7 winners, one from each state and territory. I not only think, but know that more competitions and programs should exist like Country to Canberra as it is so beneficial on so many levels for not only the winners, but everyone else involved. Sometimes all it takes is a little Girl Power!