Controversial issues, musical genuises and new perspectives: my TEDxCanberra experience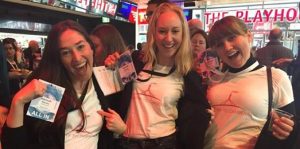 The author, Vanessa Sporne, was a roving reporter at TEDxCanberra on 3 September 2016 for their 'All In' Show Day. Vanessa was also a finalist of Country to Canberra's 2014 Leadership Competition, and is one of our Teen Bloggers. Country to Canberra is a proud Community Partner of TEDxCanberra! 
I really didn't know what to expect. To me, TEDx had always been some mysterious show on Netflix that I'd never bothered to explore, but when I walked into the Canberra Theatre on September 3rd and saw a little sign advertising 'Free Coffee', I had a pretty good feeling that I was going to enjoy the day.
I could barely move within the foyer, as the bustling crowd pulsed with excitement. Looking around I saw people of all different ages and nationalities; little did we know that the TEDxCanberra team had brought us 'All In' to experience and propagate new ideas that had the potential to transform our communities. I could already see new connections being formed as people felt the confidence to begin new conversations and start new friendships. It was not only the performers, but the audience that would provide me with new ideas that day.
The sold-out theatre buzzed with anticipation as the lights dimmed and the first performer appeared on stage. Dark Rose opened the event with the uniquely sensual sounds of the Didjeribone. The audience's attention was well and truly sparked as the musician created music that merged the contemporary and the traditional in a harmony unlike anything I had heard before. Dark Rose perfectly encapsulated what was to come at TedxCanberra in the way that he devoted himself to his unique ideas and fearlessly conveyed them to the world.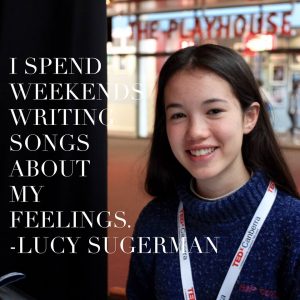 The rest of the musicians throughout the day were expertly curated, with multiple nationalities, styles and genres. Lucy Sugerman blew us away with a lyrical wisdom, greater than many of the most successful artists today, and Fred Smith pulled at our heart strings while providing a laugh with his songs detailing his time in Uruzgan, Afghanistan. The music kept the day flowing, and gave our brains a rest from the constant stream of information coming from the official speakers.
It was these speakers we had come for, and they did not disappoint for a moment. I was introduced to a new program that allowed people with disabilities to own their own homes, a broader perspective on the transgender community, nuclear medicine imaging and a new understanding of veteran mental health – and that was just the first session.
One of the highlights of my day was getting the opportunity to interview Adriane Boag, a program coordinator at the National Gallery of Australia. Ms Boag described to me how art has the ability to act as a treatment for those suffering from dementia, allowing them to escape their illness. I was inspired by how this idea refused to diminish the arts, and granted them a well-deserved respect. Ms Boag also works to promote the importance of arts in high schools with the National Summer Art Scholarship, helps young people to experience the gallery and refine their talents. It was such an honour to speak to someone so devoted to what they do, and so motivated to show the rest of the world the potential of their institution.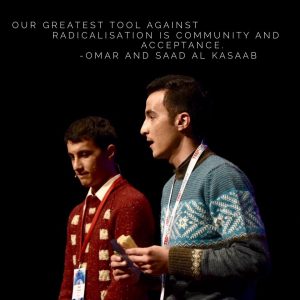 Another set of speakers who touched the hearts and minds of every person in the theatre were Omar and Saad Al-Kassab. These two young men bravely detailed the experience of growing up in Syria, describing the fear and heartbreak they endured in their native country. I'd only ever been told the horror stores of war-torn Syria second-hand; from the TV, online articles and Facebook. Never had someone stood in front of me and told me the reality of living through war. I've never felt so lucky in my entire life. Hearing these brothers speak, I realised how blessed I am to be able to attend university, see my family and live in my own house. The most humbling moment of their talk was when they showed us a short video of what their home looks like today. The audience was confronted with images of brown rubble, broken buildings and streets filled with abandoned cars. In that moment the theatre was silent with disbelief and grief. I walked out of that session wishing that everyone in Australia could have a conversation with Omar and Saad, because there is no way you could meet those men and still think that refugees don't have a right to a better life in this country.
The TEDx event has changed my perception of multiple issues within society that I was initially unsure how to approach. I have a greater ability to appreciate the struggles of others in society who are not as lucky as myself.