Empower Profile: Janine Milne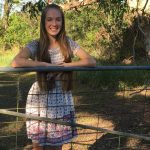 Written by Rebecca Pickering – Country to Canberra Teen Blogger
A little over a year ago, I was incredibly lucky enough to meet the inspiring woman Janine Milne through my local Showgirl Quest. Between Janine being an Agriculture Science teacher, to her Next Gen involvement, as well as Showgirl and rural Ambassador envelopment, I began to wonder, is there anything this woman can't do?
Janine grew up working primarily with cattle and pigs, and her love for agriculture dates back to before she can remember. Agriculture has followed Janine to her current job as an Agricultural Science teacher at Dalby, Qld, although a number of life changes made Janine realise her passion to become a teacher. Janine realised that there was more that she wanted to do in life than to continue driving a tractor every day for the rest of her life, and credits being a teacher as one of her greatest achievements.
"Being a teacher is such a rewarding job. You are able to prove to kids that they can do what they set out believing they can't, and that's definitely a highlight of the job!"
I asked Janine whether she believed the future of agriculture looked to be male dominated, and the answer was extremely unexpected.
"Definitely not! The future of agriculture is very rapidly changing, and every year I see more and more females in my senior agriculture classes and less males".
This year in particular Janine has one male student in her senior agriculture class, a positive sign that young women are not scared of getting involved in the agriculture sector.
Janine credits the high community involvement of young women in agriculture for the increase of women undertaking careers in agriculture, such as Showgirl and Rural Ambassador.
When asked about some of the struggles faced by women in agriculture, Janine's response made me realise how important self-belief truly is.
"The lack of self-belief is definitely a major struggle faced by women in agriculture. Women think that because it's a male dominated area they can't do it, but they just need to believe in themselves!"
Janine said that women need to be supportive of each other and help one another reach their own personal goals, and praises the women's groups which promote young women to enter the agriculture sector.
I asked Janine what she would say to a young woman who wishes to enter the agriculture sector, and was truly inspired by her response.
"Just do it! Be open to all opportunities and take a hold of each and every one with two hands, and listen to everything everyone has to say. Be open about what you want to do, because there is such a diverse range of jobs out there, especially with technology emerging.
"And last of all, believe in yourself! If you have the right mindset, you can reach whatever goals you set!"