I made a huge life decision, then went to TEDxCanberra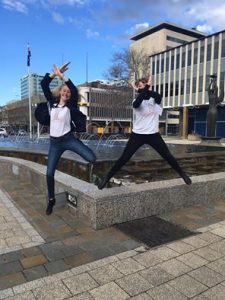 The author, Hannah Worsley, was a roving reporter at TEDxCanberra on 3 September 2016 for their 'All In' Show Day. Hannah was also the winner of Country to Canberra's 2014 Leadership Competition, and is one of our Teen Bloggers. Country to Canberra is a proud Community Partner of TEDxCanberra.  
I've always been a strong believer in the idea that rural people, and rural girls, can do everything when given the opportunity. Opportunities like TEDxCanberra open doors to further experiences and networks. But something I didn't expect during my experience was the change in mentality, my approaches to problems, and my understanding of myself.
These things are not the most tangible outcomes of an experience like TEDx, but they are undoubtedly the most profound. And if I'm honest, I think they are also the most challenging. Meeting new people is exciting. Contributing to organisations like Country to Canberra and TEDx is a fantastic way to network. But sitting in a room full of the kind of people at TEDx, sometimes the way your own thinking changes is simply scary.
What I'm getting at here (trust me, this blog post has a point!) is that spending a day at TEDx prompted me to grapple with some pretty tricky questions that have been running through my mind lately. For a variety of reasons, mainly illness, I decided to defer my medicine course. As the resident 'smart kid' at my rural high school, my path was always well defined. You finish year 12, smash the HSC, go to a prestigious university on a scholarship, graduate, and live happily ever after.
When my path took a sharp and sudden U-turn, and I ended up back at home in rural NSW, I felt like a bit of a failure. Had I made the right decision for me? Yes. Did other people necessarily understand that? No. And although such a trivial point should not matter, when you live in a rural town that your great grandparents also lived in, people give their opinion freely, and it can be hard to take.
When I got to TEDx, I had not long made the decision to defer. These questions and issues continued to pose a lot of problems for me. But I found that this opportunity gave me a quick 18 minute summary many times over of why a perfectly defined path doesn't exist. There were speeches about mental illness, about life changing challenges, about the power of family, and the bond between man and dog. There was passion and excitement and happiness-but I don't think any of the people who got up to speak believed in the perfect life path I felt I had destroyed.
I was given the opportunity to interview Brad Carron-Arthur, a mental health researcher at ANU who ran 5000km to raise money for and awareness of mental illness. He spoke about how accommodating massive changes in your life can bring stress and confusion about many things, big and small. And as someone who was in the thick of this exact problem, to hear someone who I thought was amazing say almost exactly what I was thinking was jarring. But in a weirdly good way.
TEDx is all about spreading ideas and helping people make connections with others. But it gave me something more than that. It helped me greater understand myself, and see the truth in what everyone was telling me-that changing my 'life trajectory' was not the end of the world.
Given the time to reflect on the path I took through year 12 and on to university, I think I got caught up in what everyone thought was a good idea, rather than what I knew was best for myself. I finished year 12 11 kilograms lighter than I began it. I smashed the HSC, along with my sleeping pattern. I went to a prestigious university in a city where my horses and wide open spaces were impossible to access. And I hit a wall, came back home, and felt like the happily ever after part was out of reach.
I'm writing this exactly one month after the incredible experience that TEDx Canberra and Country to Canberra gave me, and it's safe to say that I feel a lot more at peace with where I am. How ridiculous, you might be thinking, that it took a 19 year old girl such an experience to find a bit of self-belief. I have literally decades ahead of me, and no single year of my life is likely to ever go perfectly to plan. In less than 2 weeks, I start a new job that I am incredibly excited about. I have plans to take art classes, start swimming again, and to maybe even get a little bit bored-things that a study-heavy year 12, and an immediately following 6 months of medicine never allowed me to explore. I aim to mentally happy and physically healthy. And I think the long and short of it is that TEDx Canberra 2016 pushed me off the ledge I saw as a cliff, and kick-started this new outlook.