Runner-up 2015: Phoebe O'Halloran, VIC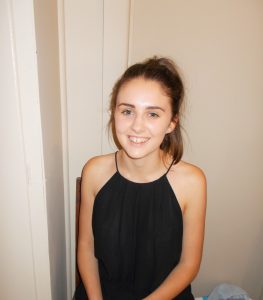 Author: Phoebe O'Halloran

Community, State: Rainbow, Victoria
Age, Grade: 17, Grade 11
---
If you were Prime Minister for a day, what would you do to help achieve gender equality? Think locally and nationally!
When I was ten years old, I wanted to be a farmer.
My dream was quickly shot down by an elitist group of aspiring hairdressers, makeup artists and ballerinas, and I was labelled a "Tomboy". It was these labels that defined the divide between personal interests and gender expectations in the primary school playground. 'Tomboys' would play games with boys, and orthodox 'girly girls' would only partake in activities that were deemed gender appropriate.
The clichéd nature of gender determined roles endures all throughout life and all throughout Australia. I live in a town called Rainbow in the Mallee region of North Western Victoria, a predominantly grain producing area with a population of about 600 people. The nearest Woolies over an hour away! It's not unusual that most farmers and tradespeople are men, and that most of those women who do work, are employed in our small, local hospital.
I think the biggest issue facing women in Australia, especially in regional areas, is the perception that many occupations are gender specific, and that perception consequently precludes many girls from even considering some career paths.
Without the diversity to which our metropolitan counterparts are exposed, women find it harder to step outside their comfort zone regarding careers. We must wipe out the notion of gender stereotypes in the workforce.
If we can change the attitudes of future generations by educating our children in early years that they can become anything they want, regardless of historical expectations, girls will dare to enter fields that are predominantly or traditionally considered 'a man's job'.
It's time to change the course of history.
The notion of the glass ceiling places limitations on women rising in the ranks within many corporations and organisations. Enormous progress in endeavouring to remove that ceiling has been achieved over the years, but it has been cracked rather than shattered completely. The ceiling continues to be evident in Australia where women occupy only 22% of senior business roles, a rate which has remained stagnant for ten years.
It is also reflected in the relatively low numbers of women in government positions, with only one-third of all parliamentarians and one-fifth of all ministers being female. Lower numbers of females in parliament influences the public's perception of the value of women in leadership. This imbalance needs to be addressed.
Implementing an initiative which sees inspiring and successful women from a variety of careers, coming into schools and mentoring young women in rural and remote areas would expose these young women to the multitude of career possibilities available to females today. This exposure to motivational women may also encourage more girls to pursue leadership positions.
I want to see the day when I ask a ten year old girl in Rainbow what she wants to be when she grows up, and she can confidently say a farmer, or even the Prime Minister of Australia.