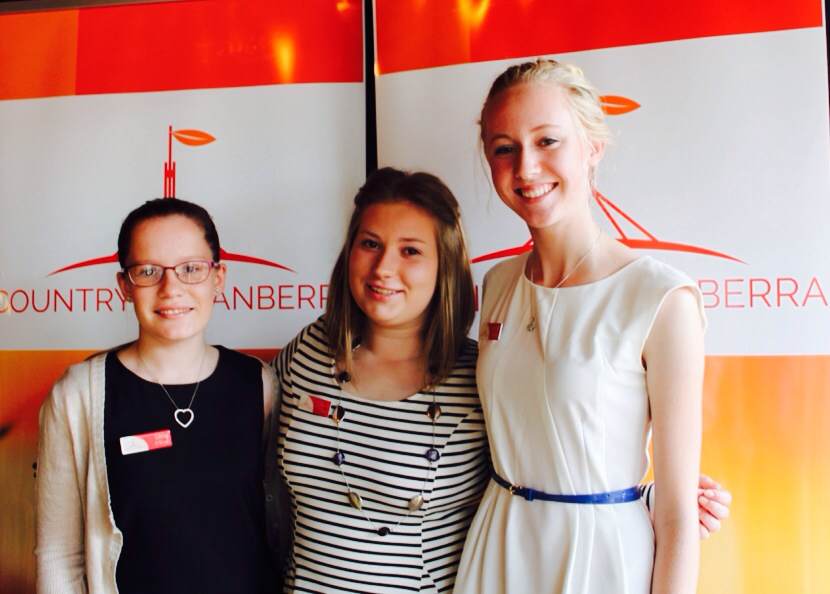 What I learned on Country to Canberra's 'Power Trip'
Vesna Clark is one of the 2014 winners of Country to Canberra's essay competition on gender equality and empowerment in rural Australia. Following her win, Vesna received an all-expenses paid 'Power Trip' to Canberra to meet inspirational female leaders on December 3, 2014. Vesna hails from the Southern Highlands in New South Wales, is 16 years old and has ambitions to work in communications (specifically to kick-start her own magazine!). Below are some of Vesna's reflections following her journey to the ACT.  
Country To Canberra's "Power Trip" was a life changing and unforgettable event where I was able to meet a number of powerful women and hear their stories and advice. I became deeply inspired on this trip and the belief and notion that girls can do anything was constantly reinforced. I identify as a feminist, holding the values and beliefs that women should be liberated and our rights and achievements should be recognised. The "Power Trip" successfully recognised the achievements of three young women aspiring to make a difference and for their voice to be heard.
On the morning of the 3rd of December 2014, Libby O'Brien, Hannah Worsley and I were taken to the 'Powerful Women's Breakfast' at Farmers Daughter, Yarralumla. This breakfast involved an open discussion regarding issues that women face within a modern context. Powerful women including Katy Gallagher, Gai Brodtmann, Rebecca Skinner, Stephanie Foster and Frances Crimmins asked for our opinions on various topics including the impact of media on young women, the importance of financial independence and issues surrounding the lack of self-esteem within young women that may impact life decisions. I was delighted at the number of women who occupy political positions and I became inspired when they told their stories and the journey they took to get to where they are today.
Throughout the day we were involved in interviews, including one with 666 ABC Canberra. This enabled me to voice my individual opinion, giving others the perspective of a young woman living in a rural area. I discussed the issues that are present within my community and what can be done to resolve them. This, in itself is empowering and is a wonderful feeling.
Later in the day for lunch, Libby, Hannah and I met a number of senators and members of Parliament House from a range of parties. Although there were a variety of political opinions and positions, the parties had came together for the same reason: to empower young women. This was wonderful as I was able to speak with my local Member of Parliament, Stephen Jones, who congratulated me and asked about the topics I discussed in my gender equality essay. I was also able to speak to a number of women including  Minister Fiona Nash, Senator Anne Ruston, Senator Lee Rhiannon, Terri Butler MP and Senator Jan McLucas, who were extremely impressed with our efforts and the issues we explored in our entries. Some women were surprised that many issues they faced growing up are still prevalent in our generation. This was crucial as it presents a need for change and to address what can be done in order to achieve gender equality.
Meeting Julie Bishop was a wonderful opportunity where I became further inspired as she talked about her career, telling us that female role models are a 'must'. Looking back on the 'Power Trip,' I realise that I have gained a number of female role models and friends that have encouraged me to pursue my desired career, explore other avenues that I may have previously thought of as 'too daunting' and to be the best I can be.
The main message that resurfaced throughout the day was to take risks; no matter what people say or if you doubt yourself, just do it. Almost always, you will surprise yourself and I believe that this principle strongly applies to me and the essay that I submitted. I thought nothing would come from it but I was called a month later and told that I was about to be involved in an unforgettable experience that involved meeting amazing, inspirational women and being recognised and empowered through my achievements.