Winner 2017: Eleanor McCormack, TAS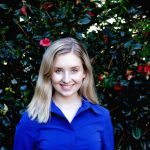 Name: Eleanor McCormack
Community, State: Ulverstone, TAS
School: St Brendan Shaw College
Age, Grade: Grade 12 – age 16, almost 17,
Bio: Click here
---
From primary school to Prime Minister, how can we create strong pathways to power for women?
As children, our greatest influencers are those who inspire us. As a seven year old, I admired my mother. As a five year old, I admired my teacher. As a three year old with no comprehension of politics, I admired John Howard. I, like many, was easily influenced. It is for this reason that the key to creating strong pathways to power for women is not through children themselves, but through those who influence them.
It begins with the content of the media of which they are fed from a young age. In this day and age, children are constantly facing marketed games, television shows, and books. It is pivotal that young girls are not limited to make-up games, barbie dolls and fairy stories. We need to give girls strong characters to admire, characters that care more about the content of their personality than their hair. We need coverage of women's sport, women in power, women who are being the best version of themselves. Boys are told they can be anything they want, and yet, girls aren't getting this message.
The teachers of Australia are the next step to creating strong pathways to power for women. At all stages of the education system, prejudice exists. 'Etiquette' classes in Victorian schools split boys and girls, and teachers lead a class on how to walk in high heels[1]. Students reported being forced to ensure 'modest' length of their skirt, while simultaneously being taught about high heels, a cultural symbol of femininity and sexuality. When teachers present conflicting messages about modesty and sexuality, they embed sexism within girls' self-image. When women dominate the teaching field yet most principals are men[2], girls fail to see a pathway to power. If teachers put bias aside, defy societal norms, and alter their principal demographic, a route to power for girls will be established.
The final way in which a pathway to power can be established is through parents. When parents raise their girls in a way that will ensure they describe themselves as 'strong', and a 'leader' before 'pretty', girls will have the confidence to follow the path from primary school to Prime Minister.
[1] S Corsetti, "Well heeled? Etiquette classes in Victorian schools labelled sexist", in ABC News, 2017, <http://www.abc.net.au/news/2017-09-01/etiquette-classes-in-victorian-schools-labelled-sexist/8863638> [accessed 1 September 2017].
[2] B Henebery, "Calling all female principals: where are you?", in The Educator, 2014, [accessed 1 September 2017].