Winner 2017: Eliza Nelligan, SA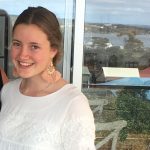 Name: Eliza Nelligan
Community, State: Port Lincoln, SA
School: Saint Josephs
Age, Grade: Year 11, 17
Bio: Click here
---
From primary school to Prime Minister, how can we create strong pathways to power for women?
To create strong pathways to power for young women we need to start educating and empowering girls from primary school. Teaching them that their ability to impact can go beyond what the media portrays, and they have just as much strength and power as males in the workplace. If in school we can teach future generations that they are more than cable of becoming strong leaders, and give them opportunities to show their worth and power. These opportunities, will help them gain the confidence and determination that is needed to achieve their dreams and continue with their passion. Opportunities need to be created through schools, organisations and the work place so that young people have the options of being exposed to future career options, pathways, mentors, leadership programs and personal development. Whether these programs be within their community or on a national scale, if everyone helps it could be a great start to creating strong pathways for young women.
Schools could help young women know their worth by inviting inspirational women who have taken on a leadership role to speak and educate them. Whether they be someone who owns a small business, someone who owns a corporate business, a CEO, a manager of a shop, or someone who holds high political power. Having empowering women come in and talk to girls face to face will show them in person, that it is possible to achieve your dream and really put the writing on the wall for them. Schools could have classes where they really teach young women about their self worth and show them that just because they are women it shouldn't hold them back from their aspirations.
Educating young women about the gap between men and women who hold power positions in Australia would be an effective way to help create pathways to leadership. There has only ever been one female prime minister, and in 2016 there was a total of 153 men and 73 women in parliament, this is over double, and shows that not even 50% of people in parliament are women. Hopefully these figures should be inspiring to young people, making them think "yes" I want to close this gap, that it is unfair that men always hold so much more power than women.
If we as women work together to help create these opportunities, then we can and will create a strong pathway for women to power. I believe with the right assistance and guidance every woman has to power to achieve and be as strong as any man could be in a leadership role.