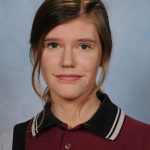 Name: Merin Ward
Community, State: Gladstone, QLD
School: Toolooa State High School
Age, Grade: 16 years old, Year 11
Bio: Click here
---
From primary school to Prime Minister, how can we create strong pathways to power for women?
Even in this enlightened age of technology and social reason, the lack of power and choice for women still strongly speaks to the strength of patriarchal systems and institutions. To promote change and equity for the young girls of Australia, attitudes, access and agency for individuals and within communities must become a fundamental dimension for the framework of power.
Attitude relates to the notion of female inferiority and stereotypes heavily embedded in gender power relations. For young girls especially, it is important to reinforce a positive attitude around all pathways – that a successful woman can be a stay at home mother or one that runs an entire country. By creating a limitless definition of female power, young women will be encouraged to see the truth in the statement, "girls can do anything."
As well as this, a girl's passion must be allowed to flourish across a range of pathways and that is why access to opportunities such as Country to Canberra are crucial. Access refers to who holds the keys to the kingdom. Access determines not only who gets to open the door, but who gets to walk through it and feel accepted once in the room. As a society, for us to be able to say we have true equality of access to all facets of public life, women must be given additional opportunities in order to level a notoriously un-level playing field.
Lastly, once these open doorways have been found, there will still be numerous barriers to overcome. Girls will still need to work hard for their achievements just like any other person; however, by building agency from a young age, girls will be able to make their own choices, set goals and act upon them. Working with personal growth and investing in developing new decision making skills can boost the achievements of girls throughout Australia, paving the pathway to power.
Power and power dynamics affects everyone's lives. By strengthening female empowerment in society through attitudes, access and agency, gender equality and pathways to power can be achieved for women.