2016 Power Trip Reflection: "I got so much more than I bargained for!"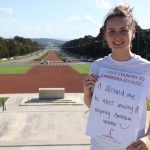 Bethan Rainey, 2016 Power Trip winner from Bunbury, WA
When I first saw a poster for the Country to Canberra "Power Trip" in my school newsletter I was delighted. With university applications rapidly approaching I was in dire need of a few resume builders, not to mention that the idea of meeting some of Australia's most powerful women was just cool. So, I set aside a weekend to reduce my take on gender equality in rural Australia to a mere 400 words (it would have been closer to 4000 if I had my way) and sent it off. A game of phone tag with Hannah, a radio interview and newspaper article later, I was off to Canberra – cue panic because I still didn't own a blazer.
I got so much more than I bargained for from the Power Trip. On the first night, the other girls and I found out that we really were going to be meeting Australia's most influential women, with Julie Bishop and Tanya Plibersek added to our agenda for the final day. The happy and very real tears evoked by this news were absolutely justified as all the people who met with us gave us their full, undivided attention and put us at ease with genuine advice and anecdotes. Since coming home, I've found that everybody is interested to hear about eating breakfast with Julie Bishop, getting a tour of Parliament house and hearing Pauline Hanson's take on being a woman in politics, but those parts of the trip weren't actually the most inspiring for me.
Don't get me wrong; Malcolm Turnbull waving at us during Question Time was by no means a lowlight (I think I've told everyone I know about that already), but it was the "Leadership Training Day" preceding  the "Power Day"  that had the biggest impact on me.
I am quite sure that joining the Australian Defence Force is not in the equation for me. Nevertheless, the three ladies who spoke with us about their roles in the ADF presented a particularly thought-provoking session as they discussed the relationship between female leadership, overcoming prejudice, and the ADF's core values. It was also an honour to have them accompany us to the Australian War Memorial and listen to their personal stories alongside the thousands told at the exhibit.
However, I think the most poignant part of the trip for me was the presentation from TEDx Canberra, which largely focussed on public speaking and how to behave in professional networking scenarios. As a horrid public speaker with an acute case of trembling knees, I was terrified for the speech I had to make the following day, which actually turned out fine thanks to the tricks we had learnt from the presenter, Ingrid. Her advice was made more valuable than any I have ever received because she engaged with the fact that often young girls are afraid to express confidence or pride in an "unfeminine" way. Although her tips were intended for more formal meetings and introductions, I found that they changed my outlook completely on my own behaviour, which I think I have thanked her for an embarrassing amount of times already.
Overall, the factor that made this experience the most special was the people involved. Alongside the powerful women and politicians we were spoiled with incredibly passionate volunteers, a great media team, and the amazing Hannah Wandel, whose hard work in founding this program I appreciate more than I can convey in blog post. Finally, I was most inspired by the other girls on the trip. Each and every one of them had such a unique perspective and experience of gender equality, but most importantly, were motivated to do something to change it.