2017 Power Trip Reflection: "Surprise, you're meeting the Prime Minister"
By Merin Ward, 2017 Power Trip winner from Gladstone, Queensland

Believe me when I say that Country to Canberra was the perfect way to wrap up my 2017, and an even better way to start my final year of school. I can confidently say that this all-girls Power Trip was much more than any of us ever expected.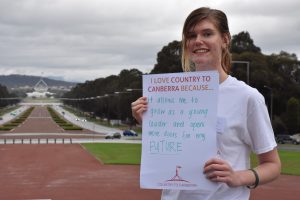 There is one moment of the Power Trip to Canberra that I will never forget. I remember being in Parliament House, on what was a cold (for a Queenslander, that is!), slightly dreary-looking day. All of a sudden, I heard one of the Country to Canberra volunteers give a surprise announcement: "Okay, so you're going to meet the Prime Minister in 10 minutes!" Immediately, I saw the faces around me light up with uncontained excitement, imagining that my own face couldn't look any different.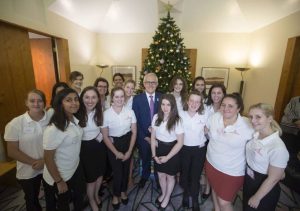 This memory of exhilaration brings me back to the moment I first found out I would partake in this once-in-a-lifetime opportunity.  Not only did we meet Julie Bishop, Michaelia Cash, Malcom Turnbull and politicians from every political party, but also participated in talks on mental health awareness, leadership-building workshops and public speaking training. Oh, and there was a lot of speaking to be done. Networking has never been a skill I'm confident with, but after 3 full-on days of continual speaking and meeting numerous influential men and women, I can safely say that my ability to talk without pause has improved significantly. As well as my own skills being boosted, the advice and words of encouragement of everyone on the trip is indefinitely precious to me, and will be a helpful tool coming into my final year of schooling.
The highlight for me has been learning more about myself and what motivates me. At the leadership workshop, we laid out our top 10 values and reflected on what drives us. By doing this, I feel that I understand more about what direction I want to lead others, as well as myself, towards. From this trip I've learnt more about myself and how I can put my thoughts into action.  I value openness and truthfulness, and I can truthfully say that this trip has been an unforgettable experience, and an absolute privilege to participate in.