Winner 2017: Amy Astill, WA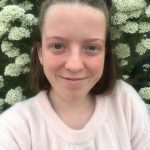 Name: Amy Astill
Community, State: Kalgoorlie-Boulder, Western Australia.
School: John Paul College.
Age, Grade: I am currently 15 years old and in year 10.
Bio: Click here
Amy's Power Trip is kindly being sponsored by AgriFutures Australia!
---
From primary school to Prime Minister, how can we create strong pathways to power for women?
From Wife to Life 
From their first day of school, until that of adult life,
Young women are told to dream of being someone's wife.
This means they must cook, and this means they must clean,
Yet when they do this, they are far from a Queen.
What is worse is that young girls are tormented all over the world,
Pressured into believing false opinions; their lives are now curled.
Even in government, women are silenced and unheard,
But the men are honoured – regardless of being absurd.
In this century, achieving success can be done through a plan,
Which is consistent of confidence, and of course, being a man.
Society is like a football stadium, it always hosts a game,
Where two opposing teams must fight for glory, but one side loses in shame.
Yes of course the teams are different genders, and yes, obviously the rules are unfair,
Because how are women supposed to win, if the only jobs they should do involve hair?
Over the course of humanity, new teams have been built,
Comprised of brainwashed generations, forced to hide their guilt.
Although people usually think otherwise, the world still has so far to go,
Before both genders are treated alike, and not categorised in a row.
The theory is that our future is paved to be perfect and precise,
But that path needs to be maintained – and that's just some essential advice.
To fix what has been broken wouldn't just take a blob of glue,
It would take years, large crowds, and hard work; just to name a few.
If Australian communities acknowledged their need for difference: granted the list is quite long,
Then perhaps a few loving hearts would correct the injustice, and maybe even, an honest song.
Well let's be real, not all people on Earth are that accepting or nice,
Which means the world's wellbeing depends on mending at a destructive price.
Gender roles have NOT changed, and they still suck nonetheless.
Boys can be heroes, but girls – a damsel in distress.
Leadership skills and powerful positions are all that our women really need,
To make a valuable contribution to the world: doing more than purely breed.
So come on, make it happen, please read in between the lines with speed,
Doing this, means our country would create sustainable pathways for women, indeed.