Bio: Amy Astill, WA Winner 2017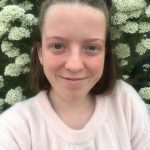 Amy is one of our 2017 Leadership Competition winners. You can check out her winning entry here and her bio below.
Describe yourself in 80 words or less.
I am currently in year 10 at John Paul College, and have grown up in Kalgoorlie-Boulder since I was 1-years-old. I have a passion to make a positive difference to the World we live in, and I feel like I have achieved this some-what as my contributions to the Kalgoorlie-Boulder Youth Council, the Year 10 debating team, the Kalgoorlie Animal Hospital, CBC Hockey club, and Millenium Kids have allowed me to reach goals I never thought were possible.
How old are you, what grade are you in and what community/town do you live in?
As of 2017 I am 15-years-old, studying year 10, and living in the 'City' of Kalgoorlie-Boulder.
Who is your role model and why?
Julia Gillard has been my role model ever since she became Australia's first female Prime Minister. I have looked up to her since she was one of the first women I heard of to break the stigma regarding 'weak' female leaders opposed to 'strong' male ones. In particular, I really appreciate how she expresses herself in a manner that follows her core beliefs and opinions – although, I don't agree with them all.
What's your favourite thing about living in rural Australia?
Obviously, there isn't much 'going on' in rural Australia; yet, that's my favourite part about it. Due to this I'm grateful for the relationships I make with people and communities: as, in my opinion, they are more genuine than those in larger cities. I feel this way because I've grown up in a society where everyone knows the majority of faces they walk past every day; I've grown up in a society where I can consider these faces as my friends.
Why did you enter Country to Canberra's Leadership Competition?
During my Work Experience with the City of Kalgoorlie-Boulder, I learnt how to find my voice and use it to make a positive change. The people I met during this week encouraged me to take on all of the opportunities given to me; and not only that, but make the best out of these chances. I entered this competition due to my Year 10 Work Experience, purely because I was motivated to do so and started believing in myself.
What do you hope to get out of the Power Trip to Canberra?
I hope to gain more knowledge about the pathway of federal politicians, in hopes of becoming one myself in the future. I feel, as if, the Country to Canberra experience will both make me aware of social issues throughout Australia, and also, how to handle these ethical problems in a positive manner. Not only that, but this Power Trip will be an amazing experience to meet inspirational women, and learn about their journey to power.
What's your main goal/ambition right now?
I aspire to become a federal politician and I would consider this goal to be the one that I want to achieve above all others. The reason that this career is so important to me is because if I were successful, I would be able to influence great changes for not only Australia, but the rest of the World too.
What's your favourite quote?
"Pain is temporary. Quitting is forever."
Tell us a couple of things you do to relax/have fun?
I really enjoy spending quality time with my family, friends, and pets as they always seem to light up my day. Other things I look forward to are working as a Kennel Hand at the Kalgoorlie Animal Hospital, being a part of the Kalgoorlie-Boulder Youth Council, debating, writing poems, going to school and playing sports; hockey being my favourite. The best way to relax, for me, would be listening to music, watching funny videos and painting.
How do people stay in touch with you?
The outlets I like to communicate online with people is through instagram, '@amyastill_'.
Amy's Power Trip is kindly being sponsored by AgriFutures Australia!