Bio: Bethan Rainey, WA Winner 2016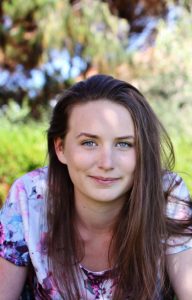 Bethan is one of our 2016 Leadership Competition Winners. You can check out her winning entry here and her bio below.
Describe yourself in 100 words or less!
My name is Bethan Rainey. I was born in Northern Ireland, but I've lived in rural Western Australia since I was four years old. It is my daily and lifelong goal to dispel the stigma around third wave feminism and stop neglecting my Instagram account.
How old are you, what grade are you in and what community/town do you live in? 
I am 17 years old, in Year 12 and I live in Bunbury, Western Australia.
Who is your role model and why? 
My role model is Tim Minchin because I think that the way in which he explores ethics, politics, and the intersection between arts and sciences through musical comedy makes important world issues accessible without trivialising them.
What's your favourite thing about living in rural Australia? 
I think that life in rural Australia is special because the experience of living in a cleaner, less populated place doesn't compromise the opportunities available to you. I've been incredibly lucky to receive a great education with some of Australia's most treasured natural landscapes on my doorstep.
What are you passionate about? 
I'm passionate about the welfare of people in this world. In particular, I am passionate about ensuring that every individual has the ability to recognise and fight for their own rights and beliefs.
What's your favourite quote?
"Please don't make the mistake of thinking the arts and sciences are at odds with one another. That is a recent, stupid, and damaging idea. You don't have to be unscientific to make beautiful art, to write beautiful things" – Tim Minchin 
Why did you enter Country to Canberra's Leadership Competition? 
I decided to enter the Country to Canberra Competition because it offered not only a cool (and all expenses paid) trip to Canberra, but the opportunity to engage in enlightening and progressive conversations about gender equality. 
What do you hope to get out of the Power Trip to Canberra? 
From this trip, I hope to meet and be inspired by the women currently involved in leading Australia. I also hope to discover more about the Australian government and making a career in politics.
What's your main goal/ambition right now? 
At the moment, I'm focusing on completing my ATAR courses successfully and applying to study Political Science at UWA in 2017.  
Tell us a couple of things you to relax/have fun? 
In my free time I love going to the beach, hanging out with my friends and playing the piano.
How do people stay in touch with you? 
Instagram: @bethanrainey