Bio: Eleanor McCormack, TAS Winner 2017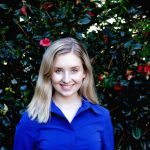 Eleanor is one of our 2017 Leadership Competition winners. You can check out her winning entry here and her bio below.
Describe yourself in 80 words or less.
I'm an Australian Girl Guide, student, and artist. I am very passionate about the visual arts and have been practicing art over the past two years. I'm concerned by the disparity between regional and metropolitan art, and the opportunities available. I have been involved with Girl Guides since I was 8 and have achieved my Queen's Guide award. I also enjoy public speaking and debating. I would say that I am ambitious, somewhat quiet, and partial to bad philosophy jokes.
How old are you, what grade are you in and what community/town do you live in?
I'm currently 16 and in year 12, living in Ulverstone, Tasmania.
Who is your role model and why?
My role model is Malala because my education is one of the most important things to me, and her fight for the education of girls worldwide inspires me greatly. When I think of Malala's plight, I remember how lucky I am and how different Malala's quest for education is.
What's your favourite thing about living in rural Australia?
I love the beautiful scenery and crisp air in rural Tasmania. We have beautiful patchwork fields and rolling hills that just can't be beaten by a cityscape. There is a certain element of humour to life in rural Australia. Although I don't live on a farm, there is a paddock with cows over the fence. Occasionally one will stick their head over the fence and chew Mum's plants – she's not impressed, but it is funny.
Why did you enter Country to Canberra's Leadership Competition?
I entered the County to Canberra Leadership Competition because I wanted to pursue something I am really passionate about: furthering the empowerment of women. I am a firm believer in the importance of female role models for women and fostering an environment in which girls can be the best version of themselves. Being a Girl Guide has really influenced me in that way and I was intrigued by the Country to Canberra program.
What do you hope to get out of the Power Trip to Canberra?
I hope to extend myself, gain leadership skills, meet inspiring people and make some great friends.
What's your main goal/ambition right now?
My current goal is to finish year 12 and get into university, however, I am studying with the intention of becoming a lawyer. My life goals are to work in the legal profession, keep learning, fight for what I believe in, and ultimately be happy.
What's your favourite quote?
"You can never be overdressed or overeducated."
― Oscar Wilde
Tell us a couple of things you do to relax/have fun?
I like to create art, spend time with my loved ones, and read. I also do kung fu and yoga, which I really enjoy.
How do people stay in touch with you?
I'm @El_McCormack on Twitter.