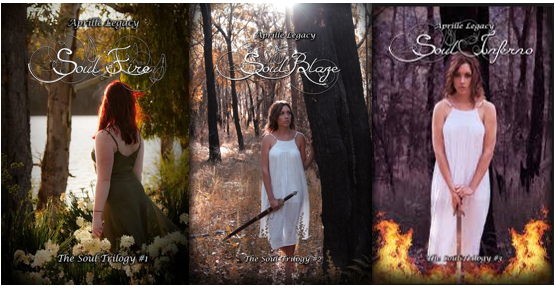 Empower Profile: Aprille Legacy
Written by Michelle Monaghan – Country to Canberra Teen Blogger
For this blog post, I found myself overjoyed and honoured to be interviewing one of my favourite authors and role models: Aprille Legacy.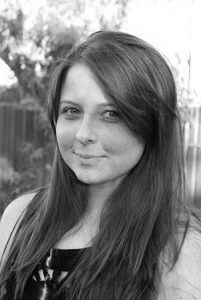 Renee Dutton writing by the pen name (Aprille Legacy) is a successful self-published author who wrote her first novel, Soul Fire, in her final year of high school and published it on June 3, 2013. The novel was then made into a trilogy with a further two published novels. Since then, Renee has published the spin-off series to the Soul Trilogy, starting with A Veil Of Stars, which is part of the Lotherian Novellas.
Renee has even appeared on ABC's Behind The News, in a writing segment where she ran a writing class with three students from a northern suburbs school.
I first met Renee when she ran a YA writers workshop at my local library in Victor Harbor where I live in South Australia, she discussed writing and the world of publishing. From that day on, Renee has inspired me and given me the confidence to start turning an idea I had into a novel that I would like to publish one day. I have also starting reading her books and highly recommend reading them – you won't be disappointed!
Q1. So Renee, tell me a bit about your background and where your love of writing came from?
I lived in Victor Harbor for most of my life and attended Victor Harbor R-7 and Victor High. I was lucky enough to have wonderful teachers and special interest groups designed to nurture a love of reading and writing, so a natural curiosity was allowed to grow into full-blown interest.
My mother always had a book in hand, so it was only natural that I follow her lead. Penning my own stories was the next step.
Q2. When did you decide you wanted to try self-publishing your first novel Soul Fire'?
I'd finished Soul Fire and queried it a bit, but I'm a very impatient person and looked into self-publishing after one of my writer friends mentioned it. I liked what I saw, so I set out on that path.
Q3. What have been the challenges of being a self-published author and just a writer in general?
It's very hard to stay motivated sometimes. When you're trying to get a new project out there, it's hard enough to just get the words down, but as a self-published author, you're also working with designers, trying to meet your own deadlines, hoping you've set the right deadlines, organising events and launches… It can all get a bit overwhelming sometimes.
Q4. What advice can you give female writers out there about writing?
I think it's important for us to have diverse female voices. The current trend in YA is good – strong heroines with a purpose and the strength and willing to make the sacrifice, but we need to diversify. We need girls who can admit that they're frightened, or girls who are strong in other ways besides physically. We need voices that represent all people. My advice really is this – write for yourself. Pen the book you need to read.
Q5. Why do you think it's important that we as women promote ourselves and have a voice?
I think female writers are important because they're capable of bringing new stories to the table. I think it's important that we have strong women for our girls to look up to, to follow in their footsteps, so that each generation can learn from the last and become better.
Q6. Do you have a female role model and if yes, who and why?
There are so many amazing women out there… I'd have to be corny and say my Mum. She's an awesome person and has been nothing but one thousand percent supportive of my dreams and goals. She'd started me on this path of reading and writing, and now that I'm an adult, she is my partner is my publishing career. She is one of the strongest, most driven women I know. I couldn't have asked for better support or guidance.
Q7. Finally, what has been your favourite thing about writing and publishing your own novels for people to read?
Everything. I have to write – it's in my blood, like an itch. But when I write a story that makes someone come up to me, or write a review, or even just rate it, I know that the words and characters inside my head have come to life in someone else's. It means I have done my job as an entertainer. I enhanced a few hours of someone's life. That means far more to me than awards or prestige.
I don't think I'll ever be able to stop writing stories – they just keep coming!
Check out this link to Aprille's website and blog here:
And here is the link to where you can buy her amazingly addictive novels on Amazon:
https://www.amazon.com.au/s/ref=dp_byline_sr_ebooks_1?ie=UTF8&text=Aprille+Legacy&search-alias=digital-text&field-author=Aprille+Legacy&sort=relevancerank