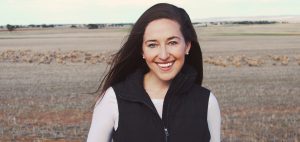 Hannah Wandel is a social entrepreneur, gender equality advocate, public speaker and the Founder and CEO of Country to Canberra. Under her leadership, Country to Canberra is successfully delivering education and career opportunities to young women across rural Australia. Hannah has a passion for ambitious ideas and innovative problem solving, which led her to being named one of Australia's '100 Women of Influence' by the Australian Financial Review/Westpac in 2015. She was also a 2015 ACT Young Woman of the Year  Finalist, a 2015 Layne Beachley Aim for the Stars Foundation Scholarship winner, a 2014 Great Ydeas winner and won the 2017 Edna Ryan Award for her outstanding efforts in the field of Education. She has been a speaker at TEDxYouth, and recently won the prestigious 2017 National Emerging Leader Award from the Institute of Managers and Leaders.
Hannah's vision and motivation for empowering rural girls stems from her upbringing in South Australia. Although she loved her local community, Hannah recognised that distance, time and funding barriers often isolated rural students from education and career opportunities. Pairing this with gender inequalities, Hannah was determined to build an organisation that creates more opportunities for young women. At 24, Hannah founded Country to Canberra to promote gender equality and to empower rural girls to reach their leadership potential.
Hannah is also a Board Director at YWCA Canberra, a World Economic Forum Global Shaper, and is the youngest ever Director of the National Rural Women's Coalition – Australia's peak body for regional women. She works full time as a Social Policy Adviser at the Department of Prime Minister & Cabinet, and prior to that, worked at the Department of Defence and as a broadcast journalist. She is a media commentator about gender, youth, and rural affairs and presents at events around Australia. Hannah has a double degree in Law (Honours) and Media from the University of Adelaide.