Our Top 10 Moments from TEDxCanberra
TED Talks are wildly inspiring and have been given by the likes of Sheryl Sandberg, Bill Clinton, Bono & Jane Goodall. That's why we were beyond a little excited to be an official partner with TEDxCanberra for their 2016 Show Day!
Held at the Canberra Theatre on 3 September, two of our C2C Teen Bloggers, Hannah Worsley and Vanessa Sporne attended to interview the speakers, audience members & crush life on social media! Here are their Top 10 moments of the TEDx Show Day themed 'All in':
1. The number of young speakers!
From neuroscientist Hayley Teasdale, farming & Indigenous Australian Advocate Josh Gilbert & singer Lucy Sugerman – it was great to see youth and their ideas valued.
2. Snicklefritz the dog.
He loves breakfast burritos, comes from Afghanistan and is passionate about wearing hipster dog vests. See Eriz Yarger's TED Talk for more context 😉
3. The Al Kassab Brothers.
These young men, who fled Syria to Australia, had the ability to make us cry and laugh at the same time. Seeing the image of Homs, Syria, before the conflict and now in 2016, made our jaws-drop. The damage was horrendous, but these brothers inspired us and pushed our boundaries. They received a standing ovation and we truly can't wait to see what they do next.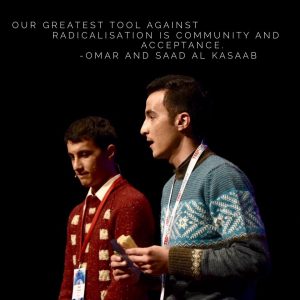 4. Our Country to Canberra T-shirts. 
#SquadGoals
5. Jenni Atkinson's speech on gender.
The long-time Trans-Advocate did a great job at explaining the difference between sex and gender – something a lot of people don't understand. Interesting, frank & practical.
6. The performances.
From a magician, to dancers to singers, this kept our energy levels high, gave us a mental break and boosted our invigoration for the Speakers to come.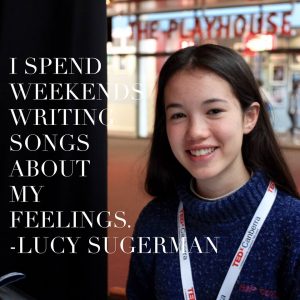 7. TEDx Bingo!
We took photo after photo with speakers, jumped off fountains and hugged volunteers. Sadly we didn't win, but we reckon we won over some hearts and minds.
8. The Topics.
So many were controversial, challenging or stigmatised, like refugees, suicide and online abuse. But it was a safe space and a supportive audience, where the the Speakers gave solutions to problems we hadn't given much thought to before – like Glen Keys' speech about independent housing for people with special needs (it's called Project Independence, check it out!)
9. Personal stories.
From Ginger Gorman's online trolling to Brad Carrun-Arthur's ultra-marathon, the Speakers weren't afraid to tell us about some of their hardest moments, and how they got through them. It showed us their motivation and passion behind their incredible achievements.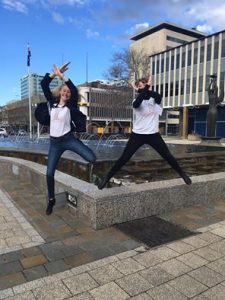 10. That shining diversity and community spirit. 
The diversity of the Speakers, in particular the musicians, was amazing. Why? Because it demonstrates TEDxCanberra's support for a wide-range of local performers, and also, their dedication to youth (yep, still at point 10, we're fangirling over Lucy Sugerman). Even more special, is that these weren't just your 'normal' musicians. Rather, all of their performances had deeper messages, which linked to the TEDx motto of 'ideas worth spreading'.
This dedication to community and promoting good ideas flowed on to the organisations TEDx partnered with, like Country to Canberra! Country to Canberra is spreading ideas about how to proactively combat gender inequality and about how to empower young rural women like us. So thank you TEDxCanberra for partnering with Country to Canberra – we had the best and most inspiring day.